And you, be ye fruitful, and multiply; bring forth abundantly in the earth, and multiply therein.
— Genesis 9:7, King James version
Where is the business of common share trading headed? Four critical factors will drive the future performance of stock markets:
The failure of the SEC's National Market System (NYSE:NMS).
The exchanges' response to NMS.
Broker-dealer driven changes in SEC rules.
Regulatory competition.
First, we examine the reaction of three small exchanges to the fragmented stock markets resulting from the ill-conceived NMS.
Stock market participants at the institutional level have been dealt a new hand of cards by the SEC's forced exchange designation for IEX. Michael Lewis' book "Flash Boys" vilified high frequency trading (HFT) and the exchanges that promote it. His attack squeezed the SEC into a favorable decision on IEX – a nascent exchange that promises protection from HFT strategies for the buy-side traders that believe they need it.
But comment letters from various stock market participants at the time of IEX's application for exchange designation complained about the chaos that would result from IEX approval. Every exchange and every broker-dealer is now forced to pick her way through a changing regulatory and competitive landscape.
The greatest fear of every existing stock exchange is unspoken. All existing US stock exchanges make a living from the quirks and kinks of NMS. It was not so much the fear that IEX would steal volume from the other exchanges that brought the flood of opposition to IEX. It was the fear of falling off the gravy train NMS has created. Perhaps unintentionally, the SEC's NMS has become the raison d'etre for the traders and exchanges that live in the market crevasses between the traders who buy because the price is going up, and sell because the price is going down.
The effects of the SEC on exchange success.
What a thicket! Consider three new exchanges: the celebrated IEX; a revamped clone of IEX, NYSE American – one of the multiple exchanges of NYSE Group, a subsidiary of Intercontinental Exchange (NYSE:ICE); and Aquis Exchange Ltd., a newly established exchange in London. Which among the many global exchanges will thrive in the next five years of turmoil? The past five years have been all about NMS.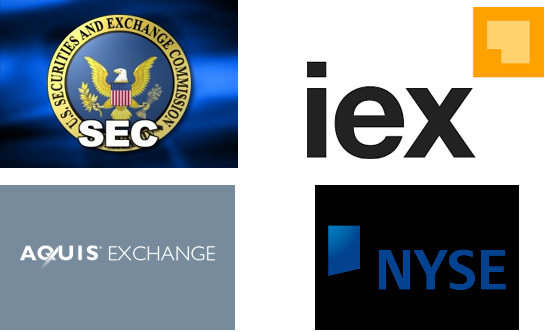 Aquis Exchange, London. Two factors make Aquis different from the others. Private ownership and no SEC.
Aquis explains the benefit to an exchange of private ownership, here.
Aquis Exchange is privately owned and operated. This independence means it does not have the conflicts of interest associated with public ownership, being a subsidiary of another exchange or being linked to particular brokers.
The blessings of no SEC regulation are amazing. No speed bump at Aquis. Just a rule. Aquis does not allow aggressive, non-client, proprietary trading. That means brokers must wait for a trade to occur — they can't act on anyone else's orders. Seems so simple, doesn't it? Why didn't IEX just disallow HFT orders that race to take advantage of existing orders, instead of the elaborate speed bump. To require passive bids and offers eliminates the HFT's "disappearing" bids and offers to which the buy-side, whose business these three exchanges covet, object.
Matt Levine speculates, here, that the SEC's ubiquitous NMS prevents a US exchange from prohibiting a trader from pulling an order. Which eliminates Aquis' simple solution to the "disappearing" HFT bids and offers in the US. What a tangled web the SEC does weave.
IEX: IEX is SEC-regulated. Worse, IEX has trapped itself in an SEC-designed box. IEX has no reason to exist, without the SEC's NMS regulations. In other words, IEX is a symptomatic cure for the disease that is the SEC's NMS. No disease; no need for a cure. No more IEX.
IEX's leadership was once employed by RBC's (NYSE:RY) brokerage operation, led by now-IEX chief Brad Katsuyama. It was in that role that IEX's future management learned that their buy-side customers' orders were losing a race to the tape with HFT traders' orders. IEX's claim to fame is the "speed bump," a length of fiber optic cable that delays the arrival of orders to IEX's execution engine. This helps reduce the speed advantage that HFT traders buy from exchanges other than IEX.
IEX's speed bump is pointless without the multiple exchanges that are spawned by the idiotic NMS. But what makes matters worse is that the basic effect of IEX's initiative to provide the market an alternative to the exchanges catering to HFT traders, is that IEX is spawning another collection of exchanges that clone IEX.
God forbid that another exchange has a creative idea that exists within the SEC purview. The result of that will be thirteen more clones of that idea.
NYSE American (NYSEAM): NYSEAM is also SEC regulated (and proud of it; since NYSEAM is among the ten or so exchanges existing specifically to soak the broker-dealers that are forced to acquire fast feeds sold by every exchange that is SEC-designated, except IEX). In the wake of IEX's exchange designation, the buzz was that the other exchanges would imitate IEX. NYSE American is NYSE's clone of IEX. Thus, NYSEAM has a speed bump identical to that of IEX. With the number of listed stocks at NYSEAM, the buy-side volume created by the speed bump adjustment may substantially exceed the volume of IEX. Life isn't fair.
NYSE American adds an interesting feature, electronic market-makers. However, like the old, human, market-makers, the circumstances under which these market-makers will trade are unclear.
The economic difference: IEX says it's not about the speed bump. It's about philosophy. In the words of an IEX spokesman, "While we're flattered by the imitation [from NYSE], investor protection is a philosophy, not a single product or order type. Unlike IEX, NYSE still has multiple trading venues, pays rebates to attract traders, allows trading firms to pay to locate their servers in the NYSE data center for faster access, and charges 'excessive' data fees."
It's not so much about philosophy, IEX. In the NMS world, orders go to the best price, not the best exchange. The other exchange-determined variables, NYSE's colocation charges to broker-dealers for a speed boost, NYSE rebates to attract volume, NYSE charges for access to data, all are elements NYSE can use to defeat IEX in a competitive marketplace.
If IEX wants to rule the world of stock exchange-trading, it must further innovate. The world of trading is not a particularly philosophical place.
Disclosure: I/we have no positions in any stocks mentioned, and no plans to initiate any positions within the next 72 hours.
I wrote this article myself, and it expresses my own opinions. I am not receiving compensation for it (other than from Seeking Alpha). I have no business relationship with any company whose stock is mentioned in this article.