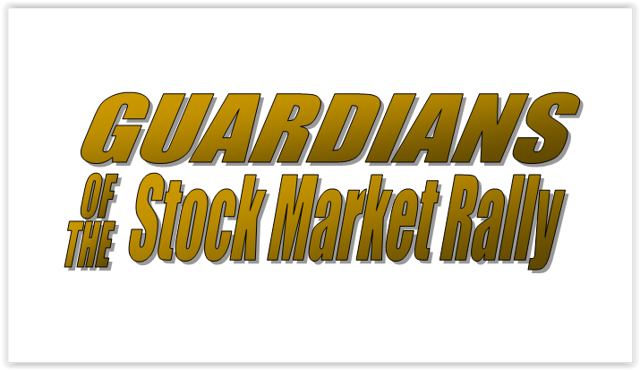 This week Guardians of the Galaxy comes out, so I thought it would be interesting to search for the companies/sectors that are the Guardians of the stock market rally. The goal is to find the stocks/sectors that have held together the 8+ year rally we have enjoyed in the market. I know lots of readers will say that the Federal Reserve is the true guardian of the stock market rally, however, for the purpose of this article I am only focusing on the individual companies/sectors.
Guardian #1: Large Cap Internet Stocks
Large cap Internet stocks (NYSEARCA:FDN) are some of the most widely owned stocks in investor's portfolios and a number of popular indexes. This group consists of Amazon (NASDAQ:AMZN), Facebook (NASDAQ:FB) and Google (NASDAQ:GOOG) (NASDAQ:GOOGL). The reason why this group of stocks is popular among investors is that they are at the top or near the top in terms of growth for mega cap stocks. As the following chart shows, corporate profits as a whole have been nearly flat and range bound for a number of years. Because of this, companies that have shown steady growth that is substantially higher than the rest of the market are popular among investors. The fact that these companies have steady above average growth is important, but is more important is the fact that they are dominant players in their respective industries and are set up to dominate the future. Amazon has been and will continue to disrupt retail as well as continue to grow its cloud business. Facebook dominates social media through a number of different platforms and social media is not going anywhere, as it is more popular than ever. Google is still the dominate player in search and has a number of projects geared towards the future economy, like self-driving cars and its new streaming TV service YouTube TV.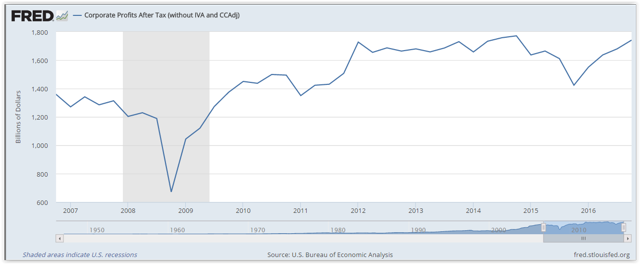 Image from Fred Graphs
Guardian #2: Consumer Staples
One of the most prominent themes of this rally is that investors have poured large sums of money into dividend ETFs. I looked at sector breakdown of the five largest dividend focused ETFs and determined that consumer staples (NYSEARCA:XLP) are the most important sector. As the data below shows, consumer staples in total hold the largest weight out of these popular ETFs and any cracks in this sector could have an impact on the rally given a many investors own these dividend ETFs.
| | | | | | | | |
| --- | --- | --- | --- | --- | --- | --- | --- |
| | (NYSEARCA:VIG) | (NYSEARCA:VYM) | (NYSEARCA:DVY) | (NYSEARCA:SDY) | (NYSEARCA:HDV) | | Total |
| Consumer Non-Cyclicals | 23.88% | 14.25% | 8.84% | 15.95% | 25.99% | | 88.91% |
| Industrials | 25.00% | 13.12% | 11.99% | 17.73% | 3.64% | | 71.48% |
| Financials | 7.56% | 15.60% | 15.22% | 21.22% | 0.89% | | 60.49% |
| Utilities | 2.85% | 7.98% | 30.94% | 11.79% | 6.16% | | 59.72% |
| Healthcare | 11.29% | 10.83% | 3.01% | 6.35% | 16.43% | | 47.91% |
| Technology | 10.37% | 14.64% | 4.03% | 2.61% | 13.01% | | 44.66% |
| Consumer Cyclicals | 13.43% | 5.72% | 9.79% | 9.78% | 4.86% | | 43.58% |
| Energy | 1.27% | 9.77% | 6.75% | 2.68% | 15.41% | | 35.88% |
| Basic Materials | 4.24% | 3.00% | 7.55% | 9.50% | 0.00% | | 24.29% |
| Telecommunications | 0.09% | 5.08% | 1.88% | 2.39% | 13.61% | | 23.05% |
Table Data from ETF.com
Guardian #3: Apple
The reason why Apple (NASDAQ:AAPL) is a guardian is that it holds the largest weight in the Nasdaq Composite (NASDAQ:ONEQ) and the largest weight in the S&P 500 (NYSEARCA:SPY). Apple has an 8.28% weight in the Nasdaq Composite and a 3.68% weight in the S&P 500. In addition to being the largest holding in these two indexes, Apple is also a top 10 holding in the Dow, which adds to its importance. Given the large weight, it is important to see if Apple will continue pulling the market higher. The first chart below shows the relative performance of Apple vs. the S&P 500 and the second shows the relative performance of Apple vs. the Nasdaq 100 (NASDAQ:QQQ). As you can see in the first chart, Apple is at a relative performance level that has been a ceiling during the last five years. This means there is good chance Apple will underperform the S&P 500 going forward. Likewise, when looking at Apple vs. the Nasdaq 100, Apple is right near a downward trend that has been in place for the last five years, this is a second confirmation that Apple has the potential to underperform going forward. Since Apple is the largest holding in these indexes, this is something for investors to keep an eye on.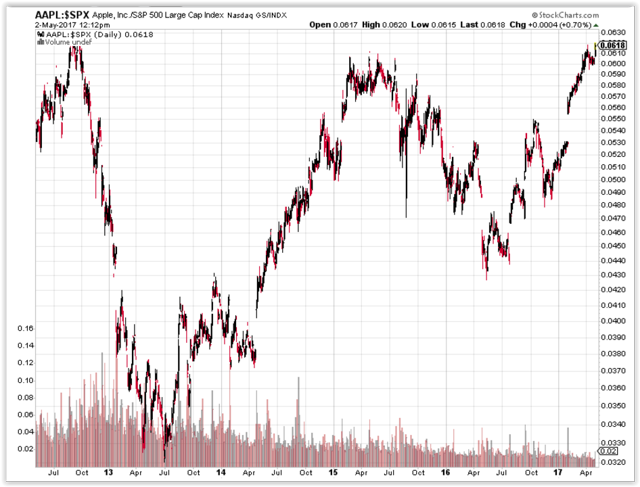 Chart from Stockcharts.com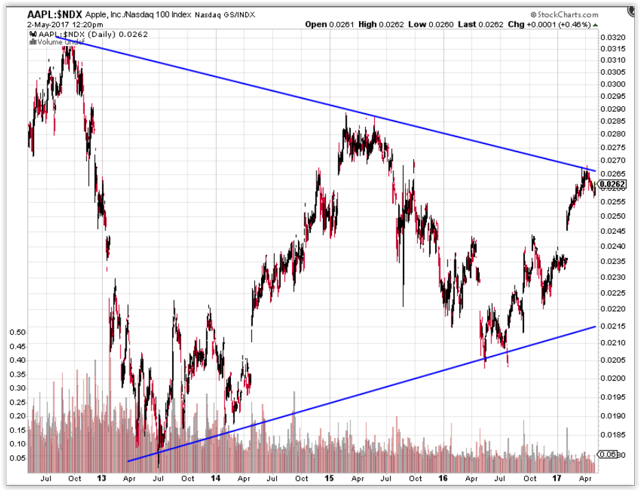 Chart from Stockcharts.com
Guardian #4: Share Buybacks
Share buybacks have also been a guardian of the rally because as companies recovered from the great recession they started pouring money into share buybacks. The chart below shows, from the bottom in March 2009 until now, share buybacks as represented by the PowerShares Buyback Achievers Portfolio ETF (NASDAQ:PKW) have significantly outperformed the S&P 500. The buybacks have been fueled by an improving economy and low cost debt. Just this week there was a story out about how buybacks are at their slowest pace in nearly five years, which is potentially worrisome given that buybacks have helped fuel the rally. However, there is still the potential repatriation tax holiday that could happen, which could make late 2017 or 2018 a time where investors could see a large spike in share repurchases if congress were to act on tax reform.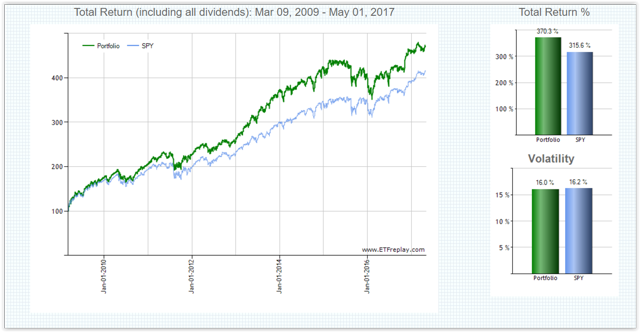 Chart from ETFreplay.com
Guardian #5: United States is the best game in town
The final guardian of the stock market is the fact that global investors have flocked to the U.S. market over developed or emerging markets over the last five years. The first chart below shows the relative performance of the S&P 500 vs. the iShares MSCI EAFE ETF (NYSEARCA:EFA) and the second shows the S&P 500 vs. the iShares MSCI Emerging Markets ETF (NYSEARCA:EEM). As you can see in both charts, the S&P 500 has vastly outperformed developed markets and emerging markets over the last five years. This outperformance can be attributed to the fact that the U.S. for the most part, had stable growth over the last five years. In addition, with excessively low and even negative interest rates in some countries; large cap U.S. stocks with a 2%+ dividend yield are an attractive asset for international investors.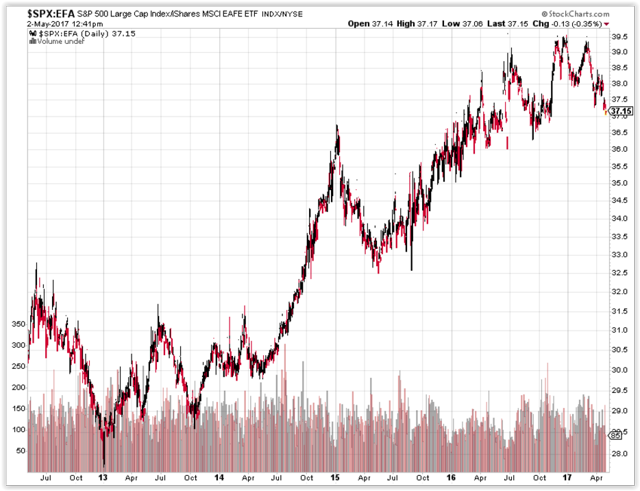 Chart from Stockcharts.com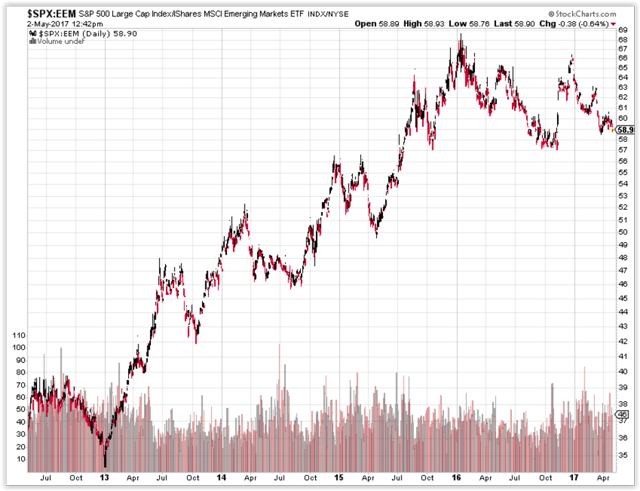 Chart from Stockcharts.com
Implementation
I have been implementing many of these guardians into my own investment process. To start, the largest growth stock I own is Facebook, which is one of the three large cap Internet stocks that have helped propel the rally. In addition, I have been thinking about purchasing shares of the VanEck Vectors Retail ETF (NYSEARCA:RTH), since it is the ETF that has the largest weighting to Amazon at 17.51%. Second, as I noted in my article, share buybacks have been a driver of the rally, but the last two years there have been signs that buybacks are slowing down and becoming less effective. Because of that, I have shifted my focus away from companies like Gilead Sciences (NASDAQ:GILD) that bought back massive amounts of shares but continued to see their stock decline and instead have moved towards investing in companies focused on growth. Two examples of companies that I own that fit this are Intercontinental Exchange (NYSE:ICE) and PayPal (NASDAQ:PYPL). Finally, as guardian #5 showed, the United States has been the outperformer over the last five years and thus the overwhelming majority of my investments have been focused on the United States and will likely continue to be going forward.
Closing Thoughts
In closing, I believe each of the five guardians I covered have been instrumental in building the rally and holding the rally together over the last eight years. Going forward as the rally gets older, I believe it is important for investors to monitor these to see if cracks form or they break down. If multiple guardians start to falter then new ones need to take their place, or it could be prudent to take some gains off the table. Have a great week and enjoy Guardian of the Galaxy, I know I will.
Disclaimer: See here.
Disclosure: I am/we are long FB, ICE, PYPL.
I wrote this article myself, and it expresses my own opinions. I am not receiving compensation for it (other than from Seeking Alpha). I have no business relationship with any company whose stock is mentioned in this article.
Additional disclosure: I may take a long position in RTH sometime in the future.