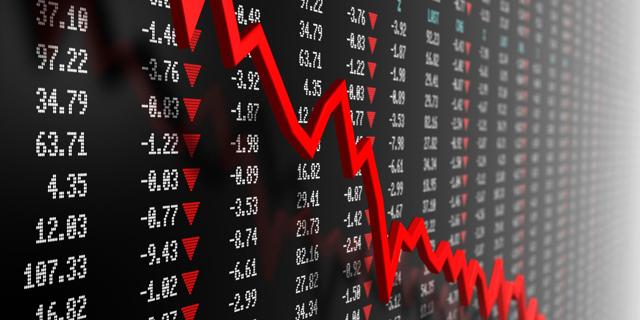 In times of extreme complacency be fearful when everybody is greedy and in times of extraordinary panic be greedy when everyone else is fearful.
Major market average ETFs such as SPDR S&P 500 ETF (SPY), PowerShares QQQ ETF (QQQ), SPDR Dow Jones Industrial Average ETF (DIA), iShares Russell 2000 ETF (IWM) and others have had enormous run-ups since the election of President Donald Trump nine months ago, and are continuing to hit new all-time highs seemingly every other day. However, with valuations being stretched to the limit, a slowing U.S. economy, a Trump agenda that appears to be deteriorating, record complacency, coupled with a tightening monetary environment, the stock market party may be headed for an imminent disaster.
9 Month Increases (Since November Election):
SPY: 20%
QQQ: 30%
DIA: 23%
IWM: 26%
Any Way You Slice It Stocks Are Very Expensive
It doesn't matter what metric you use, stocks are expensive. On Monday, July 24, Goldman Sachs came out with an interesting note saying that stock markets are overvalued. Moreover, the bank cited several factors such as an 80% rise in forward P/E multiples since 2011 to reinforce its analysis. Furthermore, the note mentioned that Goldman's end of year target for the S&P 500 is 2,400, 3% lower from current levels.
Another very prominent Wall Street analyst and notable bull Tom Lee recently slashed his earnings per share estimates for the S&P 500 and reiterated a year-end target of 2,275, 8% lower from current levels.
Valuation metrics are exceedingly stretched, the Shiller P/E ratio is currently over 30, higher than at any other time in history excluding only the dotcom bubble. Perhaps most troubling is the S&P's price to sales multiple which is at around its highest point on record 2.12, indicating that stock prices are appreciating at record levels in relation to revenue growth.
Slowing Economy
Key economic indicators such as auto sales have been sounding alarm bells in recent months. Auto sales have been tremendously weak, with June's car sales down 2% yoy, the sixth down month in a row. Furthermore, total auto loans are now towering at nearly $1.2 trillion, the highest amount on record. The previous cycle peak was in 2005 when car loans totaled approximately $825 billion. The main reasons behind the distinctive rise in auto debt are easy credit standards, deep discounts and a subprime auto loan market that has been expanding rapidly in recent years. Yet, car sales are still down for sixth straight months, not an encouraging signal as auto sales are a prominent leading indicator concerning the wellbeing of the U.S consumer and therefore the economy.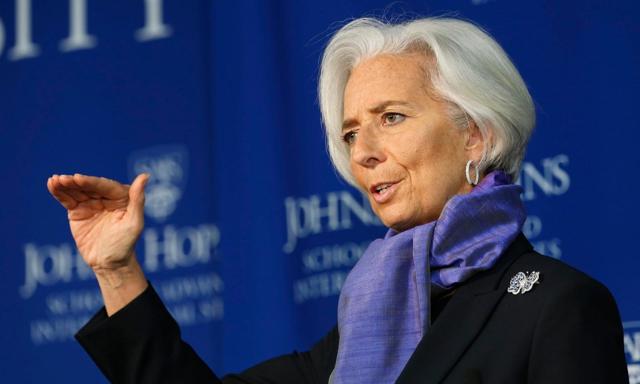 Other key sectors such as retail, housing and others also are showing signs of fatigue with declining sales, increased inventory and higher unemployment. With such bellwether indicators sounding alarm it is no surprise that the IMF recently lowered forecasts for U.S. GDP from 2.3% for 2017 and 2.5% for 2018 to just 2.1%. However, stocks seem completely unfazed by this downgrade as the continuous march higher proceeds.
Trump Agenda Deteriorating
One of the main elements behind the meteoric rise in equities since the election of Donald J Trump has been his commitment to introduce comprehensive tax reform favorable for U.S. corporations. However, the more time passes the less likely it appears Trump's tax reform will be successfully implemented.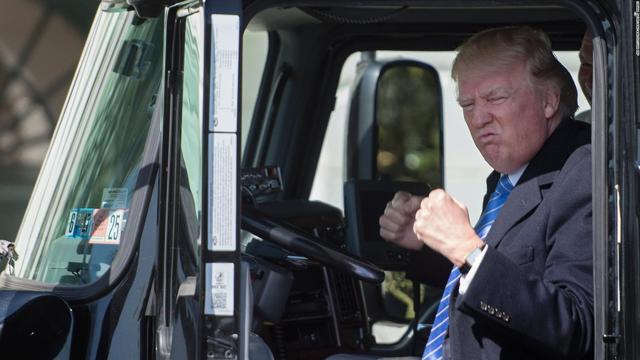 It appears that Democrats and fractions of the Republican party are intent on making Donald Trump's presidency as difficult as possible. This has been apparent as several of President Trump's initiatives such as immigration reform, healthcare and others have been met with extreme resistance. How probable is anything like significant, costly infrastructure spending or tax reform to pass? Not very likely at all, as both tax reform and infrastructure spending will balloon already exhaustive deficits. Furthermore, it is questionable whether members of Congress will approve legislation that will significantly increase the national debt which is already approaching an astonishing $20 trillion.
The VIX And Record Complacency
Investors are complacent, it's as simple as that. Everyone seems to be on the same side of one trade. The sentiment is clear – stocks will keep rising and there is nothing significant enough that will derail this upward trajectory. This sentiment is reflected in the VIX which is trading at unprecedented record low levels. The VIX has closed below 10 for 10 days in a row, the previous record was four closes below 10 in 1993.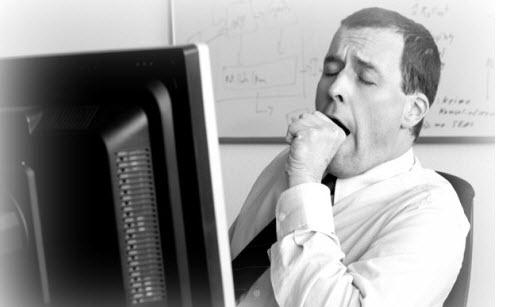 The Fed is Taking Away the Punchbowl
One of the biggest reasons behind this record-breaking complacency has been the fact that the Fed has been extremely accommodative to equity markets. Ever since the great recession of 2008 the Fed has been there to bail out stock markets with QE and lower interest rates. However, the Fed is now on a path to bring rates higher and has signaled that the opposite of QE is going to take place. Therefore, taking away the proverbial punchbowl will likely produce volatility which could be exacerbated by the fact that currently an overwhelming amount of market participants appear to be very complacent and are on the long equity trade.
Technical View
The SPY chart shows overbought conditions as is evidenced by the elevated RSI approaching 70 and CCI coming off a double top at 200. The very low volume and what appears to be a second possible close day with a black candle indicate a possible loss in positive momentum. Furthermore, the full stochastic appears to be ready to turn negative at any moment which could indicate an imminent change in momentum to the downside.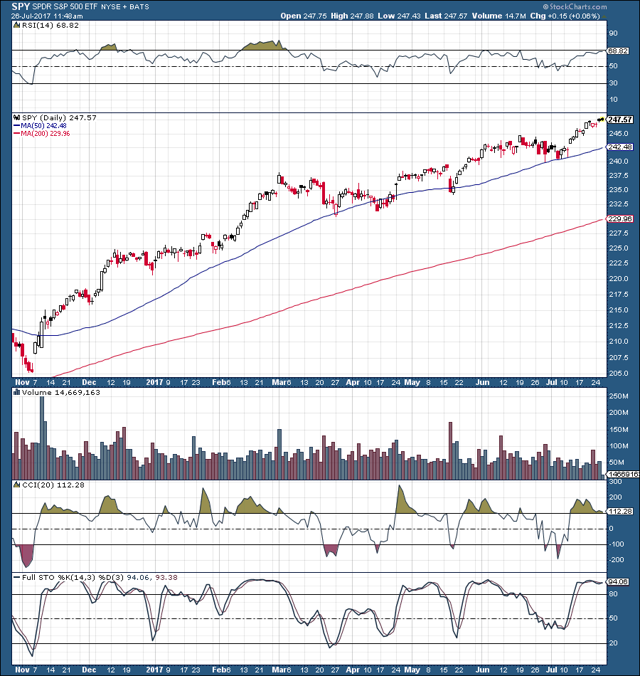 (Stockcharts.com)
The VIX chart shows an unprecedented amount of complacency as this could be the 11th straight close below 10. Furthermore, the VIX hit an intraday low of 9 in recent days, from which produced a relatively strong bounce that may continue in the days ahead. The full stochastic also appears to be turning upward, which could be signaling a higher VIX and a lower S&P in the days and weeks ahead.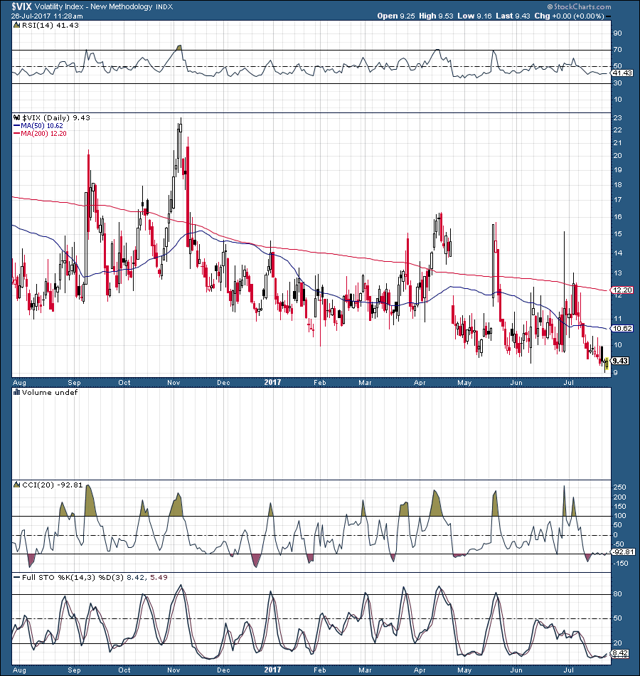 SPY and Other Index ETF Overview

The SPDR S&P 500 ETF Trust seeks to provide investment results that correspond generally to the price and yield performance of the S&P 500 Index. SPY is the largest and is amongst the most heavily traded ETFs in the world with a market cap of approximately $137.34 billion. The other major market index ETFs examined in this article are analogous to the SPY in their own markets. QQQ represents the Nasdaq 100 Index, DIA represents the DJIA 30 Index, and IWMstands for the Russell 2000 index.
The Takeaway
It appears that extreme complacency, incredibly high valuations, worsening economic data, a deteriorating Trump agenda, and a shift in Fed policy could be setting the stage for a possible equity selloff. We believe that a market correction of 5%-10% is not only possible but is likely to occur this summer. Our recommendation is to take profits in SPY, and stocks in general. We are moving part of our funds to cash and are hedging our remaining long positions with SPY put options expiring in September and October.
Disclosure: I/we have no positions in any stocks mentioned, and no plans to initiate any positions within the next 72 hours.
I wrote this article myself, and it expresses my own opinions. I am not receiving compensation for it (other than from Seeking Alpha). I have no business relationship with any company whose stock is mentioned in this article.
Additional disclosure: Disclosure: We are long SPY September/October Put Options