I just want people to step back, take a deep breath and actually look at something with a different perspective. But most people will never do that." – Unknown
All of us like to live in the moment, look ahead to what the future may hold, but often forget just how we got to the place we are today. Of course, I am referring to our views of the equity market. I do like to step back and review the current history to give me a sense of what has taken place and possibly learn a thing or two from it.
Looking back, we see the equity market made little to no progress in a 17-month period from October 2014 to January 2016. It also was a time when many who had participated in the bull market decided that the run may have come to an end.

A normal reaction for some, and it showed there was an attribute missing from that conclusion. One that successful investors practice over and over, patience. The mindset of we have to have it now doesn't play well when investing. Like the saying goes, patience is a virtue, but in the world of investing, patience can also lead one down the wrong path, by staying committed to a mistake for too long.
The world of investing is so unique. You have to possess certain attributes to be successful, but the same attributes can be disastrous. Like many other examples, this is yet another fine line that has to be played. The successful people play it like a fine-tuned violin. There is no rule book, rarely is it black and white, and it is why managing your money can be a difficult job.
Getting back to history shows us that in the 17-month period from the February 2016 lows, we have witnessed some interesting developments. The S&P is up 37%, the Nasdaq Composite is up 52%, and the Russell 2000 up 48%. Impressive, and one would then guess the backdrop for this to take place was all picture perfect.

Here is the picture that investors were looking at during this time. Three rate hikes, a U.S. election, political discord, and a CAPE ratio that expanded from 24 to 30. If you are like me and don't use the CAPE ratio to assess valuation, then stats showed the S&P trading at a trailing PE of 24 in that time period. All suggestive that the stock market had to go down.
Easy to see how the crowd didn't like equities. However, someone did, the markets were rising, and rising strongly. Stock markets can and do go up in a time when the present seems ugly. This phenomenon is what trips up many new investors and brings up the point that has to be understood. Savvy investors aren't looking at today; they are looking down the road, future earnings, future economic positives or negatives.
Today it is a new set of worries, August and September historically are the year's weakest months, the S&P 500 already has had a terrific run, D.C. fiscal progress is a big disappointment, geopolitical tensions with North Korea, and central banks are poised to take the punch bowl away. So it now remains to be seen if the S&P can fool the consensus thinking that the stock market can't go higher.
Every time there has been a dip, or the suggestion that a correction is right around the corner in this bull market, many come out calling the previous high the top. As an investor goes along their way managing their portfolio, they find many things that are unpredictable. Not in this case, people calling tops has been easily predictable. The major indices just need to make a new high. When analysts and investors cannot find reasons to satisfy themselves that the market is going higher, the end is always near.

Here again it is human emotion at work. The human mind has a hard time accepting anything new, and new highs seem strange. Well, strange to those that fear them. Not so much to the investors that have been around a while, and realize that more times than not, strength begets strength.
Further highlighting how our minds work comes from the observation that we never seem to experience this phenomenon in reverse during bear markets. On every major bear market rally, no one comes out and says the previous low was the bottom. Nope, fear is still in place. Who in the world wants to say that and buy anything stock market related. It is more likely that when the bear market lows do occur, most continue to think the market will sell off to new lows yet again.
From this observation, one can only conclude the general tendency for market participants is a negative mindset. The stock market and market participant behavior never cease to amaze me. A negative mindset while statistics show that bull markets are underway 85% of the time.


Economy
Scott Grannis weighs in on the state of the economy with his recent missive that speaks to a premise I have had believed in all along. No Boom, No Bust.
NFIB Small Business Optimism index was reported at 105.2. This month's increase breaks a string of five straight months where the index was flat or down, and puts it back within a point of the high for the current economic cycle. The top three issues that small business owners cite as problem areas. Taxes remains number one, quality of labor moves up to the second spot, followed by government red tape.

The JOLTS report reported an all-time high in the number of job openings at 6.2 million. The jobs are there, but it seems the issue of qualified workers remains.

Global Economy
A much lighter week on the global economic front.

German Industrial Production unexpectedly declined 1.2% in June. The report should be put in perspective since the prior month of May was exceptionally strong.

Japanese Leading Economic Index moved higher in the June report and continues to show expansion.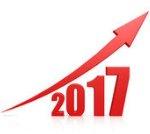 Earnings Observations
The current earnings season is winding down and overall results are positive.
FactSet Research weekly update:
As of Friday, with 91% of the companies in the S&P 500 reporting actual results for Q2 2017, 73% of S&P 500 companies have reported positive EPS surprises and 69% have reported positive sales surprises.

For Q2 2017, the blended earnings growth rate for the S&P 500 is 10.2%. Ten sectors are reporting or have reported earnings growth for the quarter, led by the Energy sector.

The forward 12-month P/E ratio for the S&P 500 is 17.4. This P/E ratio is above the five-year average (15.4) and above the 10-year average (14.0).
Technology stocks have beaten EPS estimates at the highest rate this season. Another reason the sector remains resilient.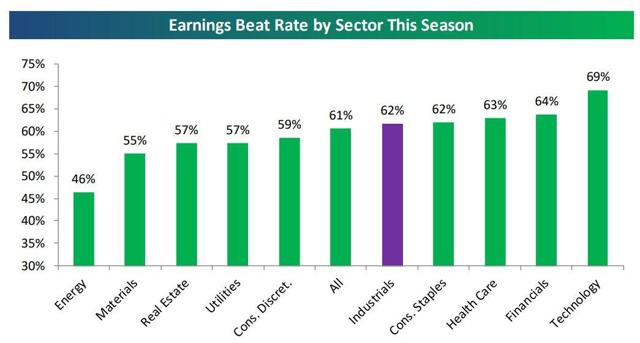 Source: Bespoke
What has stood out is the reaction that tech stocks have had to their earnings reports. Many stocks in the sector have beaten EPS estimates, but their share prices have on average fallen on their earnings reporting days this season. We have seen this before, and it isn't a sign of weakness. The fact is most have run to higher levels on the anticipation of better results. So it becomes a sell on the news event. This is where astute investors can sniff out potential bargains.
Raising guidance has also been noteworthy this season. Healthcare stocks lead the list with positive guidance, followed by Technology and Industrials. Materials and Real Estate are the only two sectors that are lowering guidance at a faster pace than that are raising guidance. Three sectors that are a good starting point for future purchases.
The premise that the turnaround in the Energy sector is the reason for a good part of the earnings rebound in Q2 is valid. However, it isn't the only reason as profit margins are at new highs. Margins outside of energy have expanded to 10.8%, a new high. It is an important data point, because not long ago, the consensus view was that margins had peaked and could only head lower. Amazingly some of those calls came as early as 2011, the last time we saw earnings gains like this.
For years we've heard that the quality of earnings was poor. Any prospects of earnings growth down the road were a pipe dream. Now it is my turn, overall quarterly sales are 6% higher than a year ago. This is the second best sales growth since 1Q12, more than five years ago. So with margins and increased revenues, the quality issue now takes a back seat.


The USD fell 5% in the quarter that companies are now reporting earnings on this season. That drop benefits the companies with large amounts on international revenues in a big way, and it hurts companies with high amounts of domestic revenue exposure. I don't see a repeat of that in the next quarter.
If anything, the USD may rise some and, at the very least, remain stable. I state my reason in the USD section that follows. Either way it should not be a huge factor that derails the earnings momentum that we have seen.


The Political Scene
With all of the political headlines these days, it is easy to understand why many have already written off the Trump presidency. Investors always seem to get all twisted around while listening to the headlines and opinions of self-proclaimed media experts.
History shows that one of the best presidential terms in terms of stock market appreciation came under Bill Clinton. During President Clinton's first year in office, he muddled through Travelgate and was faced with drama and controversy with, of all things, healthcare reform. Hillarycare was a complete failure and elicited quite a storm of anger.
Time magazine, CBS News, CNN, the Wall Street Journal and the Christian Science Monitor ran stories questioning whether there really was a healthcare crisis.
The Washington Post published this Op ed:
"In many years of studying American social policy, I have never read an official document that seemed so suffused with coercion and political naivete, with its drastic prescriptions for controlling the conduct of state governments, employers, drug manufacturers, doctors, hospitals and you and me."
Democratic Senator Daniel Patrick Moynihan stated "anyone who thinks the Clinton healthcare plan can work in the real world as presently written isn't living in it."
All of this sounds eerily familiar, but there is more.
A stark warning in the face of threats from North Korea:
"If North Korea gained and used a nuclear weapon 'we would quickly and overwhelmingly retaliate. It would mean the end of their country as they know it.'"
Those words didn't come from President Trump, but from President Clinton some 24 years ago.
Hmm, ALL of those events sound just like today. Twenty five years have gone by and not much has changed. Well, there is one thing, the S&P has appreciated about six-fold. Investors have a lot on their plate every day; those that scrape off the preconceived notions about what is going on around them lighten their load.
Washington Analysis believes:
"The risk for armed conflict between the U.S. and North Korea is at its greatest point since the 1953 armistice. The standoff is likely to lead to a U.S. policy of containment and deterrence, as has occurred with other rising nuclear powers, rather than to all out warfare. It appears that the approach out of Tokyo and to a lesser degree South Korea centers on making it clear to Kim Jong-Un that he is personally at risk, which in the past has only pushed North Korea to redouble its efforts."
That missive was published before the rhetoric we heard last week.


The Fed
Five straight months of subdued inflation reports. Both headline and core CPI rose 0.1% in July, half of what was anticipated for each. The year-over-year inflation rate was 1.7% vs. 1.8% expected.
This will more than likely give the Fed pause. My thoughts on one more rate hike and done may come to pass. Interestingly, many analysts now see only a 30-35% chance of that occurring. In short, the Fed is out of the picture for the time being.

Sentiment
Following up on last week's discussion speaking to the issue of money flows out of U.S. equity funds. Many are now enamored with other markets as money flows into emerging markets.
The Financial Times reports:
"Investors ploughed more cash into emerging market funds in the week since the asset class's stock benchmark touched its highest level since 2014. Emerging market equity funds counted $2.2 billion of inflows in the week to August 2, while Emerging market bond funds recorded $1.9 billion of capital commitments, according to flows tracked by EPFR."
The latest AAII weekly survey shows that bullish sentiment has remained below the 50% threshold for 136 straight weeks, as bullish sentiment was reported at 33.7%, falling from the 36.1% level last week. Bearish sentiment stayed above historical norms increasing slightly to 32.3%.


Crude Oil and the U.S. Dollar
A sign of capitulation? A long time energy bull has thrown in the towel. Andy Hall is closing his Astenbeck Master Commodities Fund due to large losses.
The latest inventory report showed a drawdown of 6.5 million barrels from the previous week. The fact that gasoline inventories grew by 3.4 million barrels offset any enthusiasm because of the crude oil draw. Inventories have declined by 27.5 million barrels in the last five weeks. That is the largest five week decline since the beginning of 2014.
WTI closed at $48.76, down $0.76 for the week.


After the decline from December 2016, the USD has seemingly found support.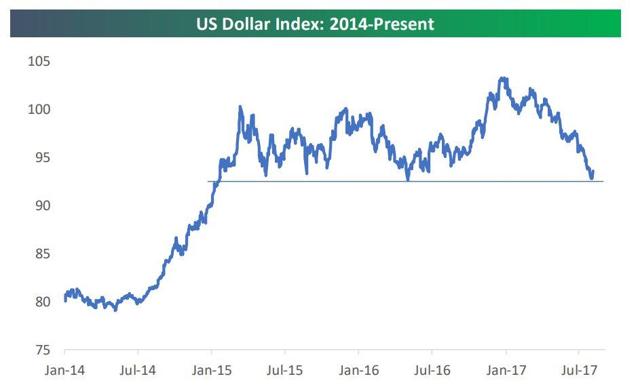 Source: Bespoke
There is plenty of negative sentiment that exists towards the currency. It appears the dollar could be bouncing off of the support shown in the chart, and it may be wise to take a contrarian view now and look for the dollar to rally. How far and how much is the question.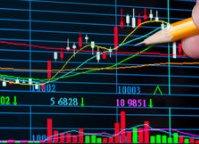 The Technical Picture
Here is a case where analysts start overturning rocks and searching the weeds looking for reasons to tell us to get ready, stocks are about to fall, and fall hard. If anyone wants to find a negative about owning stocks now you won't have a hard time doing that. I suggest that one better add some common sense to their findings before they act.
The DJ Transports have been weak recently, and that fact has been highlighted by the pundits on a daily basis. Ergo, "What are the D-J Transports telling us?" My response: Absolutely nothing. Let's look at the facts. While the DJ 30 rose some 3% last month, the Transports fell about 4%. So now the commentary surfaces that the Dow Theory buy signal is false. In one word, nonsense. In Dow Theory, the only issue that negates a buy signal is a Dow Theory sell signal. Nothing in between matters. The fact remains that less than a month ago both the Industrials and the Transports set new highs almost simultaneously.
If it isn't obvious to market participants, market breadth is an important issue. Therefore it should be monitored closely, and why it is a good idea to give it the attention it deserves. History also helps make a point.
The chart below shows the cumulative breadth of the S&P 500 in the year leading up to the March 2000 peak. Breadth was declining well in advance of that peak, and while not shown in the chart, the cumulative A/D line for the S&P 500 actually peaked back then in April 1998, two years before the market topped.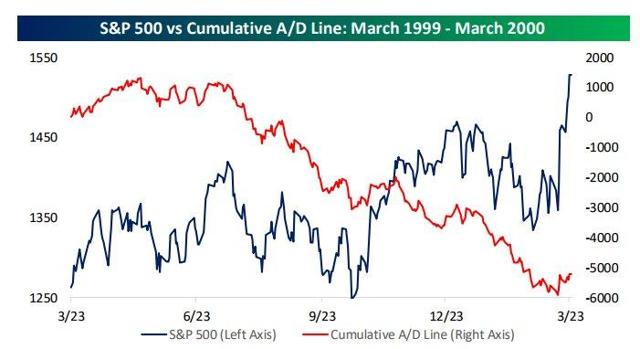 Source: Bespoke
The takeaway; The market will not crumble the moment the A/D line has peaked. It never has, because a period of time will go by for the weakness to spread before prices are no longer supported by investors. Other signals will appear as well. So for those issuing warnings to everyone the moment the A/D line shows weakness, I say listen, but do not react. They may have stumbled on a trend that will continue, then again the entire issue could reverse. Either way it is best to wait for other signs to emerge, the ground is not about to crumble below your feet.
As for the present, we are nowhere near that level as cumulative breadth for the S&P 500 has been healthy, hitting a new high as recently as August 3rd.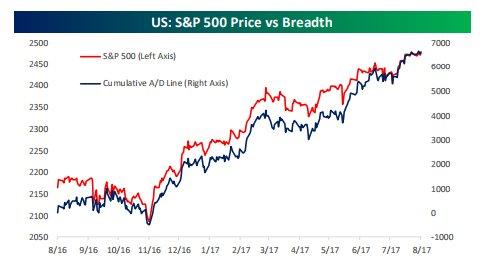 Source: Bespoke
Both price and breadth are tracking together at or near all-time highs. Yet, we still hear how the FAANG or any other handful of stocks that are highlighted represent narrow leadership that suggests extreme caution. In case you missed this link that a reader left in last week's comment section, here is Jeff Miller touting the work of another excellent analyst, Ben Carlson, on this topic. The facts are presented very clearly, blowing up this myopic notion.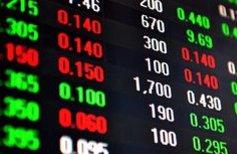 The Dow picked up where it left off last week, making it nine consecutive new highs on Monday. That is 35 new highs for the year, and the rally ended on Tuesday. Everyone likes to tie a market move to a particular story or theme; it makes the analysis easier, but not always accurate. The market reversal on Tuesday and the weak global markets on Wednesday were linked to President Trump's comments directed towards North Korea.
It sounds reasonable, BUT the S&P peaked on an intraday basis more than three hours before President Trump made those comments. The facts are pretty clear. Between noon and the time of the comments from President Trump (3:20 PM), the S&P 500 dropped 13 points. From the time of those comments through the closing bell, the S&P 500 dropped less than 3 points.
Maybe the fact that Jeffrey Gundlach was on CNBC at noon had more to do with the market weakening. He was on for almost a half hour telling whoever would listen to reduce risk. Unfortunately he has been talking about de-risking since 2012.
Plenty of others, Mohammed El Erian, Ray Dalio, etc. now talking their book and warning investors. This is nothing new; now they are emboldened more than ever. After all, they feel the wind is at their backs given the geopolitical issues. With markets at all-time highs, many are prone to hit the sell button and ask questions later and they are masters at taking advantage of that.
A tale of two markets this week. The resistance level of S&P 2,479 grudgingly gave way with a close at a marginal new high posted at 2,480 on Monday. A follow through on Tuesday pushed the index to a new intraday high at 2,490 before that mid-day reversal. Geopolitical tensions sealed the short-term deal and the S&P dropped below two very short-term support levels.

Chart courtesy of FreeStockCharts.com
A dip this week but so far the trend line that has been penciled in since May has held.
On July 23rd, I mentioned the market was overbought in the short term and suggested:
"A reversion back to the 50-day MA (2,440) may be the next move."
That did occur, but I will remind everyone that in the interim period, the 50-day MA had moved up to 2,448. The index stopped at 2,438 below that support level, and for now, that is the line in the sand to watch as a sign of further deterioration.
It would seem that the first two trading days next week will have investors on pins and needles as they wait to see if there is any follow through on the threats from North Korea.
Short-term support is at the 2,428 and 2,411 pivots, with resistance at the 2,444 and 2,456 levels.


Individual Stocks and Sectors
Looking at the 11 sectors, just three are outperforming the broad index, but four more are just slightly lagging, so year to date breadth across sectors is still strong. Energy and Telecom are the two lagging sectors, although Telecom has bounced back significantly since mid-July.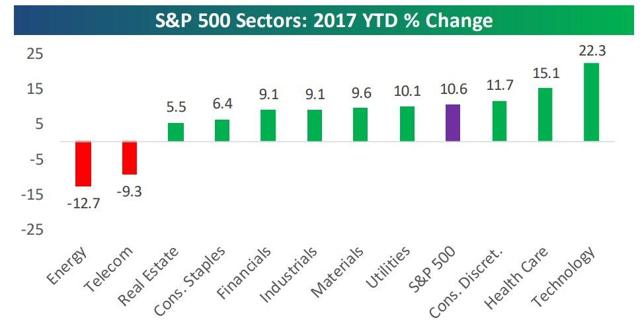 Source: Bespoke
Each earnings season Bespoke Investment Group highlights its Triple Plays. What it is referring to are those companies that beat EPS estimates, beat revenue estimates, and raise forward guidance all in the same quarterly earnings report. Since earnings season began back in early July, there have been 115 total triple plays. Last season there were 102 for the entire reporting period, and there is still a week to go this season.
This is a perfect starting point for new research. Identify candidates listed in the earnings season headlines that are compiled here during every earnings season. It is where the bulk of my work is today.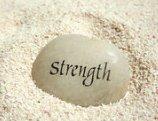 This week the discussion will revolve around following momentum and the preconceived notions that price strength and new highs are scary. The first rule here. Never, ever, ever, lose sight of the backdrop, the primary trend that is in place. Today it is decidedly bullish.
When I look around at the charts of individual stocks, it becomes obvious, and is no surprise that many portray a textbook bullish pattern. We will look at one today to make a point, but I assure you I could pull up dozens that are the same. This isn't cherry picking from a small sample, quite the opposite. I might add, it isn't just the big technology momentum names that show this pattern. Take a look at Boeing (NYSE:BA), Raytheon (NYSE:RTN), Honeywell (NYSE:HON), Citigroup (NYSE:C) just to name a few.

Chart courtesy of FreeStockCharts.com
I took the liberty of putting green arrows on the weekly chart of Facebook (NASDAQ:FB) which represent points along the way where arguments have been made to stay away from these types of stocks.


We all know the warning cries when a stock gains strength and moves higher. Momentum names can't sustain these up trends, they have all come too far too fast, etc. A new high at $40, and we heard it could be time to lighten up, this can't be sustained. At the $75 price level, the stock price is way ahead of the fundamentals. Then at $96, this is surely unsustainable, can't see any reason to buy it here. It's now time to rethink the valuation with another new high at $132, I missed the train. Wow, $157, another new high, what to do now. Here is what you didn't hear. The earnings growth continues unabated, and THE story has not changed or is threatened.
So instead of running away at the highs, an investor should sit up and take notice. Remember the market backdrop that is in place. When prices dipped just below those highs, they have presented solid entry points. Yes, I know that seems crazy because it is counterintuitive to what most of the investing population believes. New highs scare them. The mind takes us to a place and plants the idea that we have missed the boat. They are afraid of the comments that say they will be the fools buying in at the top. Not so to all of those myths IF the underlying fundamental story remains in place.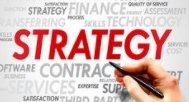 Can it be that easy? Certainly not, and I don't pretend that it is. Every story is different; there are no hard and fast rules to follow. Remember this in investing, nothing is black and white and it is not so easy. Please don't get confused, this isn't about Facebook, it is about perception and how investors can get trapped with looking at only one perspective. The strategy I follow in these situations. Monitor ALL of the data surrounding the stock in question and drown out the chatter. Most of the time the chatter isn't reflective of what is really going on; it feeds the myths.
I don't leave or significantly alter my positioning until there is a distinct change in trend brought about by change in the fundamental picture. Sure, there will be a reversion back to the mean (blue line on chart) at some point in time, maybe even a bit lower. If the trend stays on track, there is no reason to believe the story is over.
By no means am I suggesting investors run out now and overload portfolios with momentum names. Like everything else diversification is key. The message, real money can be made when a trend like this continues. One Facebook or Boeing negates a lot of mistakes. Let your winners run.
Next week the discussion will turn to the idea of bottom fishing in what may appear as value during a bull market.

The reason I follow Josh Brown is that more times than not he tells it like it is. Here is a rant about the current market situation, asking the question What Are You Even Looking At? This typifies the frustration that any bullish investor has experienced while constantly being questioned about their market stance. It has been discussed ad nauseam. Yes, despite what anyone believes, those that are bullish understand that a correction can come at any time, but it's the long-term view that MUST be kept in perspective.
Please don't take that as I am looking out 20-30 years. The weight of the evidence that is being used to form a strategy portrays an intermediate-term outlook that is positive. Even if we do get the deeper correction that many analysts, pundits are talking about, it only sets the stage for what looks to be a continuation of a very bullish cycle that has been in place since 2013. Translation, perhaps a pause in the secular bull market.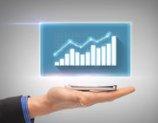 I can't set the stage for the timing of that, fall of this year, or into 2018, who knows. What I do believe is that the equity market hasn't topped here. Here is just a portion of the evidence which allows me to come to that conclusion:
No sign of panic buying leading to euphoria. A slow steady climb instead of a parabolic surge. The stair step climb.
Net inflows into domestic funds, equity mutual funds, and ETFs have been negative as reported here for a while. Inflows into bond funds remain robust (That is where a problem could arise).
There is no wild M&A or IPO activity. Volume is far below other market peaks.
Market breadth has rebounded and is much healthier today than it was during the period of consolidation between 2014 and 2016.

Analysts all see muted market returns going forward. It seems that has been the mindset of many for years now.
Federated Research weighs in on the last bullet point in a recent missive:
"In fact, did you know the S&P compounded at over 19% per year from 12/31/1974 to 12/31/1999? These returns are very normal and all the strategists, or 99% of them who for the last several years have predicted [much lower returns] are not studying secular bull market returns. It's a secular bull market with benign inflation and rising earnings."
Ned Davis Research speaks to present equity valuations:
"With interest rates so low, stocks historically are cheap compared to bonds. High valuations do not necessarily mean a secular bull is near its end. In the late 1980's, for example, stocks were extremely expensive but the pace of the ascent slowed so that by the mid 1990's, stocks were fairly valued again."
It is an argument I have made many times, you can't just dismiss the low interest rate backdrop when it comes to comparing valuations to other time periods.


It is always a good idea to hear the other side of the argument when it comes to the stock market. Here is another observation that has been quite obvious recently. The arguments brought forth to refute any bullish view now are clearly missing something. They never mention the earnings picture, the growth in revenue, and the high profit margins. All are left out of any bear argument today.
It could easily lead one to the conclusion that these are deeply flawed counter arguments, giving the appearance of grasping at straws. Yet, we see these arguments gaining traction at the first sign of market weakness. Many now forget how the indices moved ahead to the drumbeat of earnings. Put the naysayer arguments in perspective.
In my view, all of this suggests one thing. Even if the S&P stalls out here, we will have witnessed an intermediate top. A washout now could then set the stage for new highs to be set. If one wishes to believe that scenario, then it comes down to whether they want to sit through the next washout, pullback, correction, whatever, or if they believe they can time the markets.
I plan to stay right where I am. Invested in the equity market and looking for more opportunities while keeping things in perspective.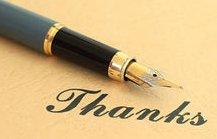 to all of the readers that contribute to this forum to make these articles a better experience for all.
Best of Luck to All!
Disclosure: I am/we are long C, FB.
I wrote this article myself, and it expresses my own opinions. I am not receiving compensation for it (other than from Seeking Alpha). I have no business relationship with any company whose stock is mentioned in this article.
Additional disclosure: The opinions rendered here, are just that – opinions – and along with positions can change at any time. As always I encourage readers to use common sense when it comes to managing any ideas that I decide to share with the community. Nowhere is it implied that any stock should be bought and put away until you die. Periodic reviews are mandatory to adjust to changes in the macro backdrop that will take place over time.