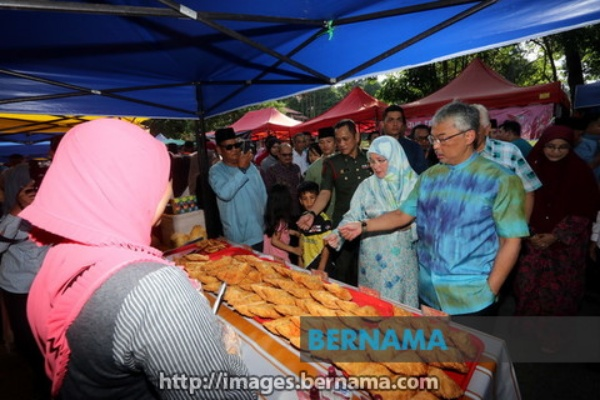 MELAKA, May 16 (Bernama) — Traders and visitors to the Peringgit Ramadan bazaar here did not let go of the opportunity to take 'selfies' with Yang di-Pertuan Agong Al-Sultan Abdullah Ri'ayatuddin Al-Mustafa Billah Shah and Raja Permaisuri Agong Tunku Azizah Aminah Maimunah Iskandariah today.
Their majesties arrived at the site at 4.45 pm and were received by Yang Dipertua Negeri Tun Dr Mohd Khalil Yaakob, Melaka Chief Minister Adly Zahari and state executive councillors.
Sultan Abdullah and Tunku Azizah Aminah Maimunah spent about 45 minutes with the traders and visitors and bought a few varieties of food before leaving for Masjid Al-Azim near here for breaking of fast.
Meanwhile, traditional cake trader Nuraisyah Abdul Aziiz, 49, said she opened her stall earlier than usual and purposely dressed up in traditional Malay attire for the royal visit.
The mother of three from Bukit Baru said she was also very pleased that the king and queen whom she saw at close range for the very first time had stopped by to buy some of her cakes.
Cendol Seri Serkam seller, Samsul Mohamud, 41, from Bukit Baru said he did not get the opportunity to take a selfie with the king but was glad to be able to see their majesties.
"Today, I am wearing a full Malay warrior attire as I wanted to show my loyalty and respect to Seri Paduka for being the symbol of the Malays and Islam," he said.
Visitor Ramlan Ismail, 41, from Bukit Katil said he came very early, around 2.30 pm to the bazaar because he did not want to miss taking a selfie with the king.
"Alhamduillah, I managed to and it will remain as one of my fondest memories," he said.
— BERNAMA