view original
post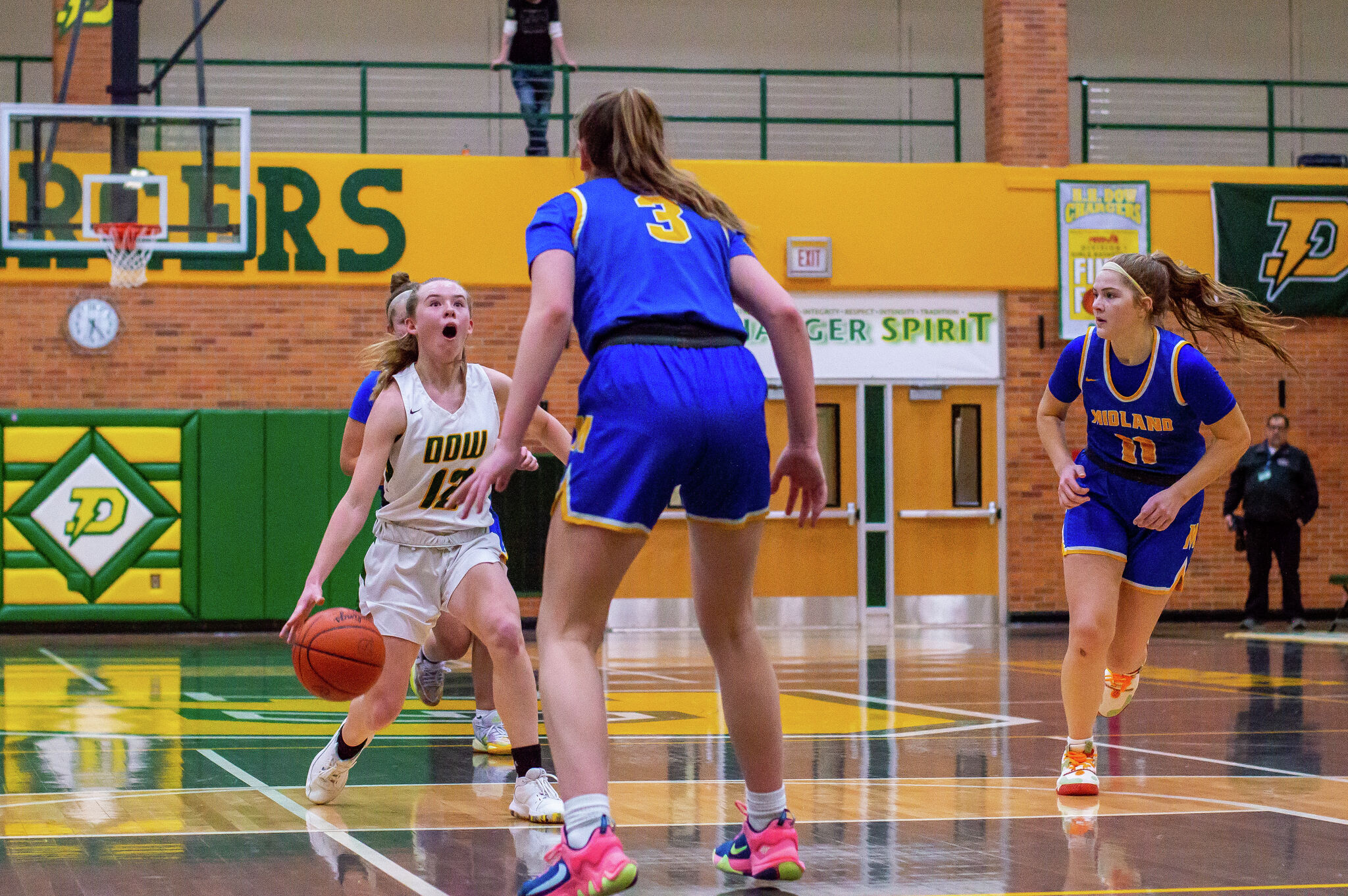 Dow High's Dalton DeBoer drilled seven 3-pointers to propel the Chargers past rival Midland High the last time the two teams met. On Friday, Dow used a more meat-and-potatoes approach – and it was every bit as effective.
With freshman point guard Melanie Kolnitys penetrating and dishing, and Riley Schikorra and Jenna Butcher doing work down low, the Chargers scored inside almost at will in a 52-40 win over the Chemics in Saginaw Valley League girls' basketball.
"After Dalton hit seven 3's on them the last time, they obviously wanted to take her away, which they did. But when they did that, the middle was open, and Riley and Jenna were controlling the paint," said Dow coach Kyle Theisen, whose Chargers have won eight straight.
"Melanie was making a lot of good passes, and then Jenna and Riley were finishing in space," he added. " … It's not hard to score when you're getting layup after layup."
Midland coach Ashton Finney was pleased with her Chemics' grit, which was evident throughout, but admitted that the Chargers were a handful down low.
"The girls did a great job of shutting down their shooters tonight, and we handled their pressure well for most of the game," Finney said. "The turning point was their points in the paint. We struggled to guard players cutting through the paint and the short corner, and we weren't able to convert the turnovers we created into points."
Both teams got to the rim well in the first quarter, as Kolnitys dished out five assists and Butcher scored nine points for Dow, while Payton Palmer answered with seven points for Midland. The Chargers ended the period on a 7-0 run to carry a 16-9 lead into the second.
Both teams struggled offensively for much of the second quarter, but Dow eventually started to click again. The Chargers got three inside buckets by Schikorra, a putback bucket by Butcher, a beautiful give-and-go layup by Butcher off of a nice pass from Schikorra, and a driving layup by Lauren VanSumeren in a 12-2 run which made it 28-11.
Dow ended up settling for a 29-14 halftime advantage.
The Chargers opened the third quarter with a 3-pointer by DeBoer, Dow's only triple of the night, and a post bucket by Schikorra to extend to a 20-point margin, 34-14, but the Chemics put up a fight. Midland answered with three quick inside buckets by Emmalea TerBurgh and a 3-pointer by Avery Bilow for a 9-0 run which trimmed the deficit to 34-23.
With Dow leading 38-26 after three quarters, the Chemics opened the fourth quarter with another 3-pointer by Bilow to cut the deficit to single digits, 38-29, but that was as close as MHS would get. Kolnitys made 7 of 8 free throws down the stretch and handled the ball flawlessly in crunch time to help the Chargers hang on.
"The great part about Melanie is that she is very coachable," Theisen said of Kolnitys. "There were a couple of things that she wasn't doing that we wanted her to do, and I kind of got on her case a little bit, and then she immediately goes and makes them happen. She listens well. When she's asked to do something, she's going to go out and execute it.
" … For a freshman in that environment to just handle the pressure is impressive," he added.
The Chemics made seven 3-pointers to Dow's one, but the Chargers outscored MHS 11-3 from the foul line.
Schikorra led the way with 16 points and seven rebounds, while Butcher had 13 points and 11 boards, Kolnitys had 13 points and seven assists, VanSumeren had six points and three steals, and DeBoer added five rebounds.
For Midland, Bilow hit five triples and finished with 17 points and nine rebounds before injuring her knee late in the fourth quarter. TerBurgh added eight points, while Palmer had seven points and four assists, and Morgan Williams added five rebounds and three assists.
"I was very happy with our defense, especially in the first half. I thought we just shut them down," said Theisen. "That's kind of been our thing all year – we're going to play defense every night. I thought you saw that tonight. We wanted to make a statement with our defense, and we did that."
Dow (8-4 overall, 4-0 SVL) will host Grand Blanc on Tuesday, while Midland (2-10, 1-3) will head to Mount Pleasant the same day.
"We have continued to improve over the course of the season," said Finney. "We have the players. We have the drive. Once we get the experience under our belts, we are going to be contenders in the league."