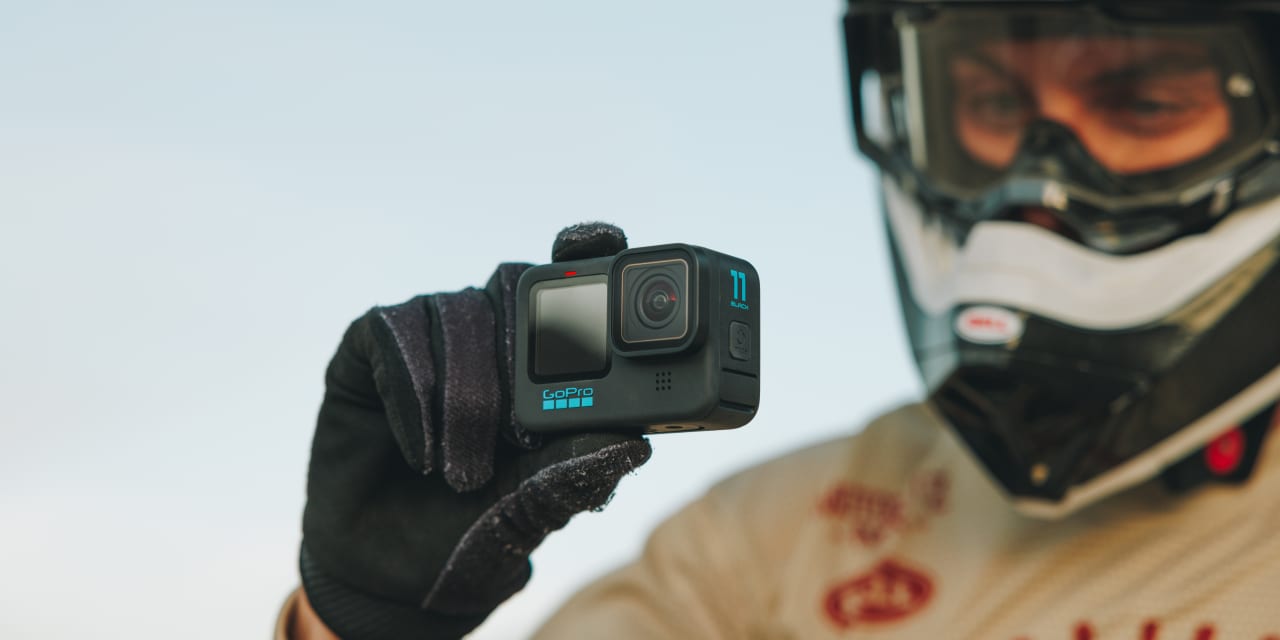 GoPro Inc.'s market cap slipped back below $1 billion again on Friday after the sports-camera maker's forecast fell short of Wall Street expectations, but some analysts see the company heading in the right direction.
GoPro
GPRO,
-11.92%
shares dropped as much as 15.5% Friday after the company's earnings topped Wall Street expectations for the quarter but its forecast fell well below the consensus. Shares fell to an intraday low of $5.46 — or by as much as $1 a share from Thursday's close — after opening at $6.17, the stock's intraday high on Friday. At about 159 million shares outstanding, that means any drop below $6.30 a share puts the company below a $1 billion market cap. Shares had closed at $6.30 a share on Wednesday and then at $6.46 a share on Thursday.
GoPro faces inventory issues, a common refrain in this earnings season from consumer-electronics makers, as retailers are left with devices that didn't sell during the holiday season. Wedbush analyst Alicia Reese, who has an outperform ratings and reduced her price target to $8 from $9, said in a Friday note that GoPro's retail channel was the "primary culprit" in the mediocre results and "soft" first-quarter outlook.
There were some silver linings, however. Since 2020, GoPro executives have attempted to shift sales from retailers to its own direct-to-consumer channels. That move was meant to help its communications with buyers and increase its subscriptions and other offerings, and analysts wrote that the effort was bearing fruit.
"GoPro's direct-to-consumer channel was roughly flat [year over year] despite a tough comp and currency headwinds, growing to 40% of total revenue," Reese said. "Subscriptions reached 2.25 million at year-end, with [fourth-quarter] revenue up 35% [year over year] and expected annual revenue contributions of over $100 million in 2023, double that of 2021."
She continued: "GoPro should continue to see a revenue and gross margin lift as it expands subscription attach rates at both retail and DTC over the long term, while partially offsetting near-term retail softness."
Inventory problems resulting from stuffed holiday channels have become the biggest headwind cited by many chip makers and device manufacturers this earnings season, after a two-year pandemic-driven shortage quickly flipped to a glut in 2022, as seen in earnings reports from Intel Corp.
INTC,
+0.43%,
 Advanced Micro Devices Inc. 
AMD,
-2.51%
and Qualcomm Inc.
QCOM,
-0.61%.
Read more: The world is buying fewer devices, and inventories for PCs, phones and tablets are building
Citi Research analyst Jim Suva, who has a sell rating and a $4 target price, said GoPro saw "the expected pressure from the destocking efforts of consumer electronic retailers."
"This destocking is expected to last another quarter or two, so consensus estimates will move lower," Suva said. "We are impressed with the company's opex controls and shift to a more profitable subscriber model, with subscriptions now at 2.25 million."
The company reported adjusted fourth-quarter net income of 12 cents a share on revenue of $321 million late Thursday, compared with the Wall Street consensus of 9 cents a share and $324.7 million. For the current quarter, however, GoPro forecast a first-quarter loss of 19 cents a share to 15 cents a share on revenue of $160 million to $170 million, while the Street was expecting net income of 2 cents a share on revenue of $211 million.
JPMorgan analyst Paul Chung, who has a neutral rating and lowered his price target to $5 from $6, said the company's forecast suggested that "lingering soft demand trends extend, while the channel continues to clear units."
"On a positive note, subscriber base is on track for $100 [million] in recurring annual run rate high margin revenues, and catalysts ahead include a desktop editor with potential to upsell a premium subscription," Chung said, but he admitted that "visibility into the year remains uncertain and we see limited catalysts ahead, keeping us sidelined."
GoPro shares are down 32% over the past 12 months, while the PHLX Semiconductor Index
SOX,
-1.90%
has fallen 10%, the S&P 500
SPX,
-1.04%
has declined 7.5% and the tech-heavy Nasdaq 
COMP,
-1.59%
has fallen 13%.