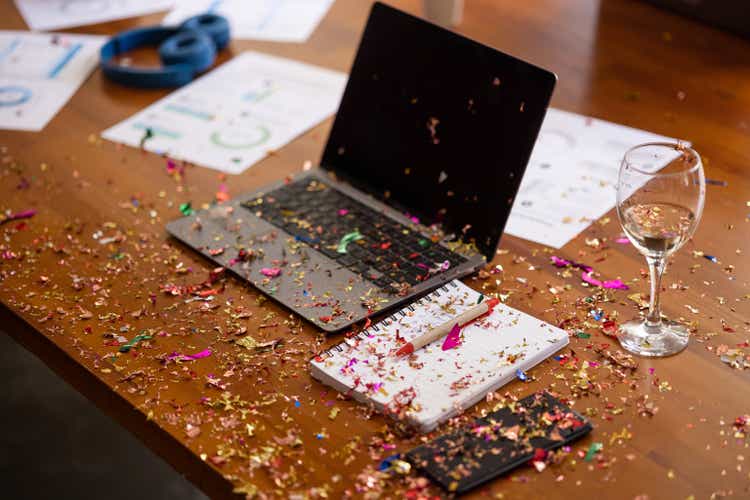 "Your mind is like a parachute: If it isn't open, it doesn't work." –Buzz Aldrin
The Macro View
The fundamentals remain weak. Manufacturing is terrible. Housing is in a deep slump. Evidence of a consumer who is running out of steam continues to mount. With job growth doubling output, productivity is falling. The best yield-curve recession indicator, the 3-month/10-year Treasury spread, is as inverted as it's been since 1981! However, as noted last weekend oftentimes the technicals will start to improve well before the economic picture brightens. Whether it be positive or negative, the market is looking for that "change".
With economic data at lows, suffice it to say it would seem that there is only one way to go on the series of bad news, and that is up. That leaves me with a notion of what was mentioned during the week. The stock market is looking ahead, and if we are already in a recession it's tracking the "change" that could take place. Tracking a stabilizing series of data reports would be considered a win in the near term. However, the burning question is how long will it take before we see meaningful and more importantly sustained positives being reported for the economy. What has changed in the last month is the "China reopening trade", which is sparking a rally in the Eurozone that is the best start to a year since 1987.
Many things technically have improved, but (ultimately) the big picture has not changed yet- the dominant trend is still down for now. Overall, the net result is a market that may become more range-bound over the coming months, potentially between ~3700-4300. We're just a year removed from the most extraordinary monetary and fiscal stimulus in our lifetimes-more than $9 trillion that was followed by the most aggressive Fed tightening in history –There's no playbook for this. It's why there are a lot of questions but little in the way of answers. Let's see if we can make sense of the situation based on what we know today.
Credit Spreads lean toward a more positive near-term market.
High-yield CDS spreads essentially reflect the cost to insure against company defaults- and have been a good indicator of equity market trends over the past year. After trending solidly upward in the first half of 2022 (as inflation concerns intensified), CDS spreads have trended generally sideways since mid-2022.
Consequently, this has correlated with an S&P 500 trend that has also become more sideways over the past six months. A positive divergence can be seen in this view- while CDS spreads have narrowed back to August lows, the S&P 500 is still well below its August highs of 4300. This suggests further upside and increases the probability that the S&P 500 retests ~4300 at some point.
A potential problem looms with this Q4 Earnings Season: It is only just the beginning of Q4 earnings season, but so far results are coming in below historic averages. 63% of S&P 500 companies are beating estimates by 4% (vs 15-year averages of 70% and 5.4%, respectively). Guidance is also being cut with 2023 earnings estimates moving broadly lower. For example, the banks are setting aside extra reserves for an expected rise in loan delinquencies.
With the average S&P 500 stock now well off its lows, weak results this earnings season may be more of a headwind. Q4 earnings season is ramping up and the results will go a long way in determining near-term price action. A base case expectation for a 2023 earnings estimate of $215 (below the current bottom-up analyst estimate of $227) is probably more in line with reality. No doubt PEs reached an elevated level in the zero interest rate backdrop, so we are coming down from these lofty levels. But when I drill into the numbers, I find that on an annual basis, the P/E has fallen 42% since 2021, marking the largest two-year contraction in nearly 50 years.
There is one more "factor" that can keep the market stable. When I take a look at the average P/E multiple dating back to 1960 concerning various 'ranges' for inflation, it presents an interesting picture. If the consensus view is that inflation has peaked and is coming down that supports multiple expansion. Of course, it's only ONE factor that goes in the PE equation, but when we enter a period where the positives are embellished the "other" factors are pushed to the background.
Near Term Conclusion
History suggests that moderating inflationary pressures, and a less aggressive Fed reflects any 'bad news' on rates has been priced into the multiple. Secondly, investors already "know" there will be a hit to earnings this year, and depending on the severity of the decline, some, if not all of that has ALSO been factored in.
Price is the final arbiter, and in the short term price is a function of investor sentiment. We often experience periods where the negatives are placed on the back shelf and the positives are embellished. We are experiencing one of those time frames now. I take my cues from the green shoots that the technicals are sprouting. From there I can conclude the intermediate term is looking more positive as we begin to close out Q1 and enter Q2. Let's not take that as an all-out BULLISH reversal, where I go out and buy anything and everything. There will still be plenty of frustrating and questionable moments, and I won't change my view that "selectivity" in this backdrop will be a key to success. Remember, this analysis is based on the improving technical picture. It will fall apart IF support levels that we have outlined as KEY pivots are violated. That is not unusual when we are dealing with a stock market that is NOT in a "Full Speed Ahead" BULL market backdrop that we saw before 2022.
Selectivity is Key
If this analysis turns out to unfold as I anticipate, it will mean that traders can start to look at some of the quality stocks that are showing "reversal" patterns. This remains a bifurcated market with the indices following different paths, so it's not a Stock market where all is aligned. We've seen that for a while and it always leads us back to a key to my strategy- Selectivity.
The way I view the MACRO picture now has a slight twist to it. I can envision a "party" to celebrate the Fed leaving the scene and interest rates that will STOP going UP. How long this party lasts is unknown. As always it depends on a whole bunch of variables most of which are unknown to us now.
At some point, the reality of a slow/no growth economy sets in. Of course, that is not set in stone just yet. But the concrete truck is on the scene ready to pour. The difficult investment environment is still here and I think that the headline-driven backdrop is going to continue in the months ahead. Altering plans as the scene unfolds is a testament to operating with an Open Mind.
The Global Scene
A Bloomberg survey of economists revealed an expected 5.1% growth in China's GDP in 2023 as the country reopens after COVID lockdowns. The extent to which the Chinese economy is normalizing will be seen over the next several weeks, amid the Lunar New Year travel season. The holiday will take place on January 22, and the associated travel season encompasses up to 40 days.
Sometimes referred to as the world's largest annual human migration, hundreds of millions of people will travel, often from urban areas to visit their relatives in the countryside. China's transport ministry expects more than two billion passenger trips, doubling from the lockdown-impacted level of 2021. All this travel, of course, is likely to exacerbate the post-lockdown COVID wave, potentially leading to supply chain disruptions as factories and other businesses face worker shortages.
So while that could be a near-term negative, if those forecasts are anywhere close to being correct, it confirms the view that China will begin to dominate the economic stage. I've mentioned this before. They have what both the US and the EU need to maintain their "green" habit. That addiction keeps China in control whether some want to recognize that or not.
The Week On Wall Street
Sellers dominated the Monday session as the price action remained weak all day. Every Index and all eleven sectors posted losses. Turnaround Tuesday arrived and all of the indices and sectors ripped higher. It was a much-needed turnaround for the Bulls with the S&P clawing back (+1.5%) all of the previous day's losses.
FOMC day unfolded and after some indecision, the rally ensued, culminating with the S&P closing at a new recovery high. However, it was quite evident money was rotating out of what was the outperformer, the DJIA, and into other areas of the market. The NASDAQ added 2% and the small caps (IWM) posted a 1.4% gain. Both of those gains add more confirmation to the breakouts that were noted in the charts. The DJIA ended the day with a 6-point gain while all of the other indices were higher by 1-2%. The reversal of the 2022 Value trade continued into Thursday's action as well.
Except for the DJIA, the major indices continued the rally that is concentrating on growth and the beaten-down areas of the market. When the dust settled on Thursday all Indices except the DJIA were "extremely" overbought. After the close, Apple, Amazon, Alphabet, and Starbucks, all reported earnings that missed estimates.
Friday's session was mixed, and if that is all BEARS could muster with that news backdrop, it shows how near-term sentiment has changed.
The FED
No surprises here. The Federal Reserve's statement;
"The Committee seeks to achieve maximum employment and inflation at the rate of 2 percent over the longer run. In support of these goals, the Committee decided to raise the target range for the federal funds rate 25 basis points to 4-1/2 to 4-3/4 percent. The Committee anticipates that ongoing increases in the target range will be appropriate in order to attain a stance of monetary policy that is sufficiently restrictive to return inflation to 2 percent over time.

In determining the extent of future increases in the target range, the Committee will take into account the cumulative tightening of monetary policy, the lags with which monetary policy affects economic activity and inflation, and economic and financial developments. In addition, the Committee will continue reducing its holdings of Treasury securities and agency debt and agency mortgage-backed securities, as described in its previously announced plans. The Committee is strongly committed to returning inflation to its 2 percent objective."
Since they mentioned "2% inflation" three times in two paragraphs, we can assume they are intent on staying on a path to achieve that goal.
The Economy
Employment And Inflation
The January nonfarm payroll report left just about every economist scratching their head. Total nonfarm payroll employment rose by 517,000 in January, and the unemployment rate changed little at 3.4 percent. I won't attempt to figure out why this report was so strong. I do know the "employment component" that is being reported in ISM and other surveys is not aligned with strong job growth. That adds more confusion to the economic picture.
If we want to make the case that the economy is strong based on this jobs report, it raises several questions. Will growth be slow enough to bring down the inflation rate? Will significantly higher interest rates be required to make that happen?
Then again, perhaps wage growth isn't feeding into the inflation issue and if it was, it had a minimal effect. Inflation is subsiding while wage growth remains strong. That suggests inflation is all about what has been discussed here for months. Excess spending and energy policies.
Confused? You should be. The 'data' is sending mixed signals, and the expert are as confused as you are.
Manufacturing
No change in the subpar manufacturing data that is being reported.
The Dallas Fed Manufacturing Index showed growth in Texas factory activity slowed in January. The production index, a key measure of state manufacturing conditions, fell from 9.1 to 0.2, with the near-zero reading suggestive of a flat output.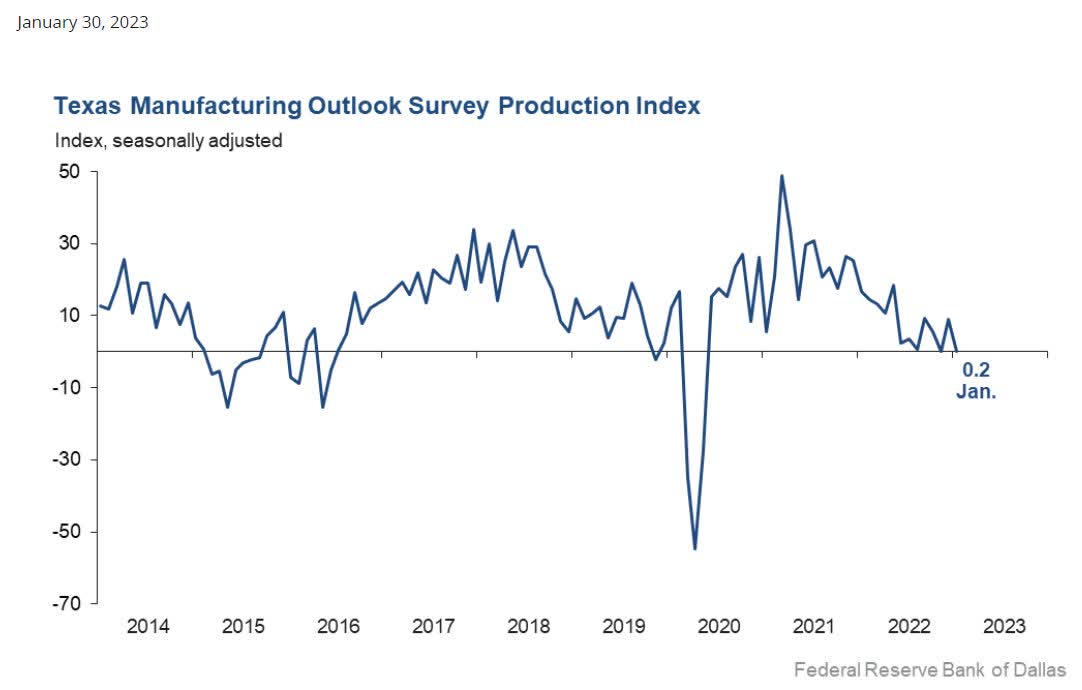 Chicago PMI dropped to 44.3 in January from 45.1in December leaving a fifth consecutive sub-50 contractionary reading. Most of the various component categories are now in contraction territory. Analysts expect the ISM-adjusted average of the major sentiment surveys to fall to a 3-year low of 48 in January.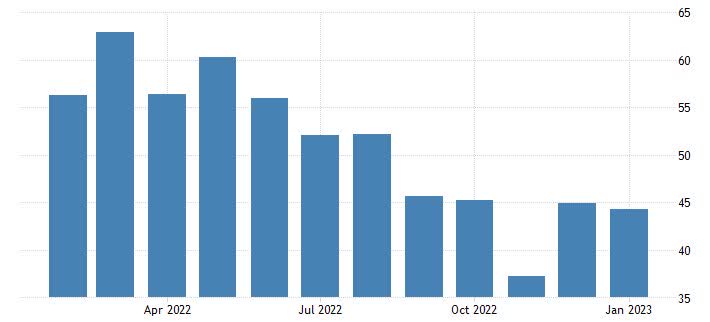 Construction spending beat estimates via huge upward revisions, though analysts saw a 0.4% December drop. Construction spending posted a 0.9% growth rate in Q4, after rates of 3.4% in Q3, 10.3% in Q2, and 22.3% in Q1.
That pushed analysts to lower the Q1 GDP estimate to -0.8% from -1.0%.
The ISM manufacturing index declined 1 point to 47.4 in January after dipping 0.6 ticks to 48.4 in December following annual revisions. This is the fifth straight drop and is the lowest since May 2020. It has been in contraction for three consecutive months.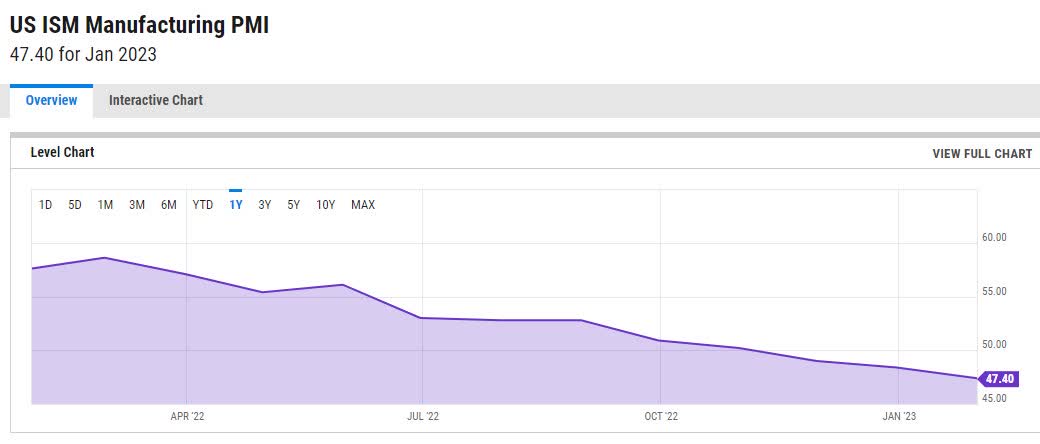 ISM data has been in steady decline for well over a year now.
Consumer
The U.S. consumer confidence index dropped to 107.1 in January from what was an 8-month high of 109.0. The Conference Board survey has revealed a surprisingly resilient path relative to the other confidence gauges since peaks in mid-2021. Today's consumer confidence drop joins a Michigan sentiment rise to a 9-month high of 64.9 from 59.7, which leaves that measure still well below the early pandemic bottom of 71.8 in April of 2020.
The IBD/TIPP index fell to 42.3 from 42.9, versus an 11-year low of 38.1 in August. Analysts have seen a confidence updraft since mid-2022, though all of the measures have deteriorated sharply from mid-2021 peaks, and Michigan sentiment is fluctuating around remarkably weak levels while the Conference Board measure has remained relatively elevated.
The bottom line; consumer surveys reflect the economic conditions, poor.
The Global Economy
Chinese PMI data surged to start 2023 as manufacturing returned to expansion in-line with estimates versus a huge surge in services that topped economist views substantially. As shown below, results are near the best levels of the past 18 months and offer hope that the disruptions of COVID are starting to trail off.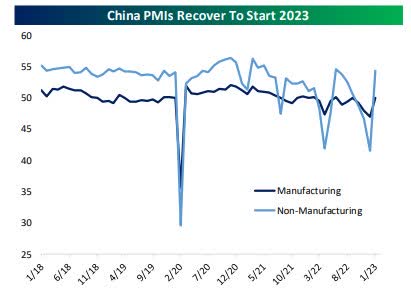 Also of note, the sub-PMI index that tracks the steel industry saw the highest inventory reading since early 2020. Spot steel prices onshore hit the highest yuan prices since early July last night after flying 2% higher to start the week.
This positive goes a long way in solidifying the notion that the global economy can now stabilize.
Global Manufacturing PMIs stabilize but for the most part, remain in contraction
China
The headline Caixin China Manufacturing Purchasing Managers' Index – rose from 49.0 at the end of 2022 to 49.2 in January, to signal a decline in the health of China's manufacturing sector for the sixth month in a row. That said, the rate of deterioration eased from December and was only marginal.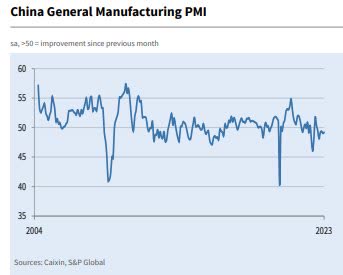 Eurozone
Manufacturing PMI at 48.8 (Dec: 47.8). 5-month high.
Manufacturing Output Index at 48.9 (Dec: 47.8). 7-month high.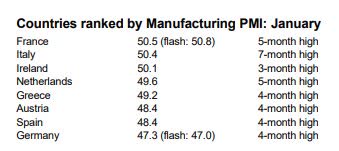 While there is improvement note that the bulk of data remains in contraction. (sub 50)
India
January data showed a further improvement in the health of the Indian manufacturing industry. Posting 55.4 in January, the seasonally adjusted India Manufacturing Purchasing Managers' Index highlighted a nineteenth successive monthly improvement in operating conditions.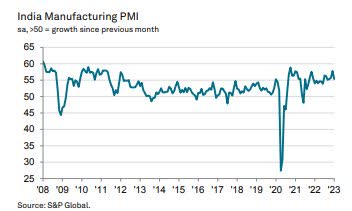 Japan
At 48.9 in January, the headline au Jibun Bank Japan Manufacturing Purchasing Managers' Index remained below the neutral 50.0 threshold for the third month running. However, the index was unchanged since December and thereby suggested an overall stabilization of manufacturing sector business conditions.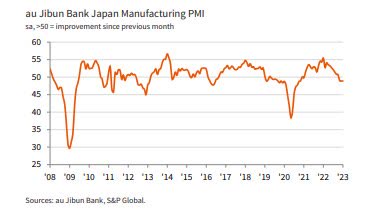 Canada
Canada's manufacturing economy registered a return to modest growth during January. Canada Manufacturing Purchasing Managers' Index recorded 51.0 in January, up from 49.2 at the end of 2022. The latest data marked the first time that the index has recorded above the 50.0 no-change mark that separates growth from contraction since last July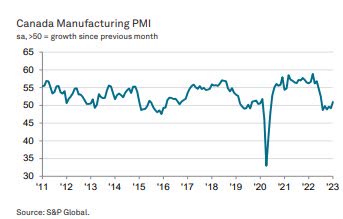 ASEAN manufacturing firms reported an improvement in operating conditions at the start of 2023. The headline PMI picked up from 50.3 in December to a three-month high of 51.0.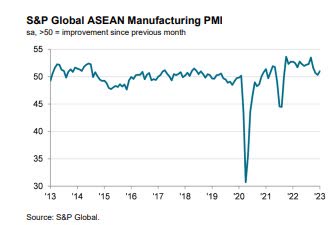 Four of the seven ASEAN nations monitored by the survey registered growth across their manufacturing sector in January, up from three in December.
Global Services PMI data from a range of global economies was broadly improved and higher than expectations, with China performing similarly to the spike in the official sector PMI data reported earlier in the week and the Eurozone's uptrend continuing for another month.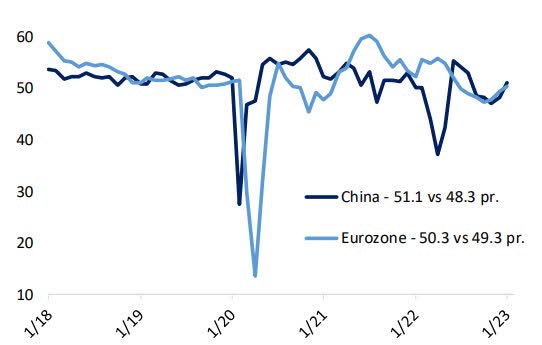 Composite output PMIs, which measure production and nothing else (unlike manufacturing and services headline indices) were mixed. Smaller economies continue to slow while the other two of the world's largest three economic blocs are both seeing a definite inflection higher over the last few months as COVID-Zero and the energy shock both wear off.
Food For Thought
All ESG, all the time. ESG investing is the new mantra driving a theme that has seemingly taken over the minds of many investment firms. ESG investing highlights environmental, social, and governance principles and is supposed to minimize risks tied to those three factors.
Because environmental, social, and governmental strategies exclude many securities and some sectors of the market, ESG-focused products may not be able to take advantage of the same opportunities or market trends as products that do not use such strategies. Additionally, the criteria used to select companies for investment may result in investing in securities, industries, or sectors that underperform the market as a whole.
The pushback on this "investment scheme" is just beginning to take root. West Virginia is one of the latest to take on the ESG mania. Texas, Florida, West Virginia, North Dakota, Oklahoma, Minnesota, Idaho, South Carolina, Louisiana, Idaho, Wyoming, Arizona, Kentucky, Utah, Indiana, Missouri, Ohio, and South Dakota are now adopting ESG bans.
Besides the moral or ideological conflicts that one might have with "ESG" investing, many state pension funds are starting to look at results. If a portfolio didn't include the energy sector last year it was destroyed. In addition, corporations forced into this regulatory nightmare are also questioning their stance. That is due to investor backlash which is now questioning corporate fiduciary responsibility to shareholders. By its strict selective nature, ESG moves fiduciary responsibility to the background. It is this principle that in my view makes it in direct conflict with capitalism and uninvestable.
200 years ago the world was dominated by poverty. Something called "Capitalism" came along and all of that changed. Capitalism has taken more people out of poverty than any other system in history. Yet it seems many continue to derive "schemes" to derail the system. From where I sit ESG is one of those schemes. Each can decide for themselves how they want to proceed, but as a matter of personal choice, I have decided I'm not interested in any of the ESG-related investment vehicles. Selecting winners and losers by defining specific 'criteria' isn't what I am interested in. Like anyone else that looks at a financial statement, I am concerned about how much money a corporation is now being forced to toss at this "issue" to be compliant. Telling an industry they can't invest in a sector because it doesn't "fit" certain criteria is not in line with a capitalist society. After all, I am a shareholder in a capitalist society, and every corporation has a fiduciary responsibility to its shareholders.
The bottom line is; Shareholders are always at the top of the food chain when it comes to corporate governance. There are many other regulations and mandates dealing with greenhouse gases, social issues, etc. without dragging the financial system into the fray. I can't speak for anyone else, but I for one don't want the Federal Reserve having to deal with "climate" issues when they are fighting 40-year highs in inflation.
The reality is the more corporations have to spend on studies about their greenhouse gas emissions, social compliances, etc., the more their products or services are going to cost everyone else. Not to mention many corporations were already good citizens well before ESG mandates came along. They were able to allocate resources to address issues at their own pace. ESG demands will affect every corporation's bottom line. Therefore, when we add it all up, the "value-added quotient" is negligible. It's simply another "handcuff" on Corporate America and a threat to capitalism.
The Daily Chart of the S&P 500 (NYSEARCA:SPY)
Sentiment remains in the glass half-full mode and the BEARS are scrambling. A full-fledged breakout and the only question is how far can this mini uptrend go?
The August highs will be the next resistance zone, but the BULLS have a confluence of support in the 3950-4000 range. So the battle lines have been drawn.
It's your move. Glass half full? or Glass half empty?
Investment Backdrop
With the 10-year Treasury yield holding steady down near 3.5% and the dollar index also behaving (by not rallying), investors have continued to push into stocks to start the year. January has been a complete reversal of the action we saw in 2022. The Nasdaq, Consumer Discretionary, Communication Services, and Technology have been 2023's biggest winners, and these were last year's biggest losers. At the same time, defensive sectors like Consumer Staples and Utilities have been lagging.
It's interesting that at the same time, the yield curve and the majority of economic indicators are telling us a recession is almost a guarantee, the stock market is trading from a stance of economic strength with cyclicals outperforming and defensives underperforming.
Last week we saw the US outperform most other country ETFs, but international markets remain well ahead of the US year-to-date. The all-world ex-US ETF (CWI) is up 9.3% YTD versus a gain of 6% for SPY.
That brings us to the RESULTS for the MONTH.
January is in the books and it was a strong month, with the major indices posting gains across the board. The theme for this past month has been the last shall now be first. The laggards in '22 have led this rally. At the index level, the NASDAQ led the way with a 10+% gain, followed by the Russell small caps (9+%). The S&P 500 rallied 6+%, and what had been the leader last year, the DJIA posted a subdued 2.8% gain for the month.
I'll note that those January gains have been pushed even higher in the initial trading days of February.
At the sector level, it was the formerly beaten-down semiconductors opening the year with a 16% rally in January. Consumer Discretionary was another sector that was crushed in '22, it reversed sharply, and gained 15%. Energy (XLE) was flat with a modest 2.7% rally, while the newly designated Savvy Hot Spot for '22 in the energy sector, the Oil Services group (IEZ) outperformed with an 8.3% rally.
Small-cap growth (+11%) beat out small-cap value (9.8%). On the commodity scene, Gold rallied 5.7%, Silver was flat losing ~1%, and another Savvy favorite, Uranium, rang the register with a 15% rally.
It has been a strong across-the-board rally that has left the entire stock market in an extremely overbought condition. I have been content with my positioning so I wasn't chasing anything this week.
Small Caps
The Russell small caps (IWM) was the first index to vault over its 200-day MA and has now closed above that level for 16 consecutive days. That evidence solidifies the view that the breakout is genuine and could lead to higher prices in the near term.
The IWM has now put in a close above $189, an area that I cited as resistance, as it capped the previous four rallies. Here is another example of an index that will need to get past a former high (August/$201) to break the series of lower HIGHS. That is the first step in turning around the BEAR market in small caps. As of the close on Friday that has not been accomplished.
Sectors
Consumer Discretionary
This was the overachiever in January. The Discretionary ETF (XLY) lost 37% in '22 and has clawed back ~20% of that loss since the beginning of the year. Some names look interesting here, but others are trading on "hope". This is a sector where "selectivity" will be very important in '23.
Cybersecurity
There are plenty of analysts and research firms that continue to pound the table on the sector. No doubt in their argument that cybersecurity will command investment as technology advances. However, I just can't wrap my arms around the group due to valuations.
Finally, every individual stock and cybersecurity ETF remains in a deep BEAR market. I'll sit back and wait until I see the group break UP and out into BULL trends. I may miss the initial part of any rebound but I'll also eliminate the risk of this group imploding if stocks with HIGH valuations are jettisoned again. PATIENCE is the name of the game.
Energy
The Energy ETF (XLE) is back at a level that has been a tough area to crack. The ETF has once again hit its head on the $94 level. With the rally in crude oil pausing this week, it sent the energy sector lower. It is the third time it has been rebuffed at this resistance level since last June. Once again, the BULLS will be looking to see how deep any pullback becomes, and if support can hold.
Since I consider my energy positioning – Long Term, I'm willing to ride the short-term waves that exist in the context of a larger PRIMARY BULL market trend.
Natural Gas
Last summer, natural gas futures in the US were trading at the highest level in over a decade, and there seemed to be no ceiling for prices as Europe approached winter. This week, nat gas is firmly below $3 and the lowest level in a year and a half. Over the last 100 trading days, prices have plunged by a record 69%. My Long term positioning in the Nat gas ETF (UNG) is adding more grey hairs.
Financials
We've noted how close the Financial ETF (XLF) has come to breaking out, and each time it has failed. This week was indeed "different". The ETF broke out to a new recovery high and for the first time in quite a while has broken back into a BULLISH trend. The onus is on the BULLS to confirm this recent move, by pushing prices higher.
Industrials – Sub Sector – Defense
The Industrial ETF (XLI) (+2,6%) underperformed the S&P (+6%) in January. The sub-sector of "defense" (ITA) has lagged even further with a gain of 1.6% in January. At one point during the month, the defense sector sold off losing 3% while the overall market was rallying.
There are always a lot of reasons for price action, but the primary cause for the poor performance in (ITA) so far is linked to concerns about defense spending cuts. We've seen "political" rhetoric cause short-term disruption in other sectors before. Healthcare is the poster child for such knee-jerk reactions to "commentary". Usually, it turns out to present an opportunity for anyone that can look past the short term. The same applies here. The "rhetoric" is more "spin" than fact. It would seem that decreased support for Ukraine in the new Congress is fiction. House chairmen are lobbying for more weapons to be sent to Ukraine.
Since I missed the BULL market in many of the defense-related stocks, I was of the mindset to try and add exposure during any dip in the primary trend. After listening to different defense company earnings calls, I came away with the same message from each. Assisting Ukraine in its defense against Russia has depleted the supply of armaments here in the US. In the case of Lockheed Martin (LMT), they estimate it will take years to bring supply levels back to levels that are considered "routine supply". Company order backlogs are already high, and unless the government is ready to operate in a state of vulnerability (doubtful), more orders to bring our defenses back to normal will be coming in.
We can expect more bumps in the road and knee-jerk reactions, but as long as the primary BULL trend in this sub-sector is in place there will be an opportunity. For those that do not want to take on any individual stock risk, the Aerospace and Defense ETF (ITA) is on the cusp of another breakout.
Healthcare
The Healthcare ETF was a laggard in January, but I'm not ready to lose interest in the group. For one, the sector remains in a long-term BULL trend. Secondly, many of the healthcare stocks will do relatively well in a weaker economy. They are being sold now as it's a simple reversion to the mean trade. That presents an opportunity for "select" healthcare names.
Biotech
Last week I spoke about the Biotech (XBI) breakout and the latest price action brings us a much-anticipated follow-through that is gaining more traction. The index will be coming into a heavy resistance area in the $94-$96 range. That is the convergence of the April and August '22 highs is aligned with the longer-term 20-MONTH moving average.
It will be a tough "ask" for the XBI to get thru all of that resistance on the first try. I'll be looking to lighten up on the position that was added last June at $64. This has been an immensely profitable trade for Savvy investors and the bulk of it occurred during a BEAR market.
Gold
Gold continues to look positive, and there is plenty of time to BUY. I have felt that a pullback was due and I still believe that to be the case. I am not really in a rush to chase it higher here because there is potential for Gold to create a larger move down the road, and there will be plenty of opportunities for profit if that occurs.
The MACRO view of Gold appears to be set up in a large cup-and-handle type pattern on its long-term chart. (GLD) broke down early last year when Gold, formed a double top above $2050 and dropped down below $1650.
But perhaps Gold is just taking longer to form the "handle" portion of the cup-and-handle. If that is the case and Gold proceeds to fulfill the pattern, then we should expect Gold to go much higher in the years ahead. So, I still believe the smarter play is for some sort of retracement in the near term, but I think we need to keep Gold on our radars given the potential it holds.
In the short term, I continue to play the short-term move via the Gold Miners ETF (GDX). That is a nice "saucer" pattern as you will ever see in a stock chart.
The chart of (GDX) is one of many that I share every week with all of the members of my SAVVY marketplace. As long as that uptrend line isn't broken, it pays to stay on board if you have positions. With GDX pulling back to $30, there is potential for a move to the $36-$40 range. That of course will be dependent on how Gold performs.
Silver
We are seeing another "challenge" for holders of the Silver ETF (SLV) this week. The ETF broke below a key short-term support level. It's had a hard time getting thru the $22 level, and the BULLS will be looking to defend the $20 breakout level.
Uranium
The Bull Case for this Precious Metal Has Not Changed
I have discussed Uranium a few times over the past couple of years, but it's been a while since I mentioned it here. That's because very little has happened over the past several months except for plenty of rangebound whipping around. Yet, the bull case for Uranium as the fuel for the "clean" energy with the best chance of actually working as a baseload Energy source is intact.
It was a big topic of discussion at the recent World Economic Forum in Davos. All I heard late last year about Uranium was the "BEARS" saying it was forming a Head and Shoulders top, but that appears to be breaking down, and often when a prospective pattern fails to form it does the exact opposite instead (in that case that means higher).
I've had a position in Uranium since early last year. Investors can use any one of the popular ETFs like (URA) or (URNM). Another way to participate is Sprott Inc. (SII), a company that manages/maintains holdings and investments in precious metals.
The Shorter-term view of URNM has also taken on a positive slant which has now pushed the ETF back into a primary BULL trend.
Technology
As noted earlier the NASDAQ composite led the way during January, and that move may have been the first step to slowly rebuild its heavily damaged technical pattern. Before this rally, the index did not see a close above its 200-day moving average in over a year and has now vaulted about that initial resistance. There is additional work to be done before we can declare the BAER market over in the NASDAQ, but the first step has been taken.
Semiconductors Sub-Sector
Another reason I feel the market has justified being more constructive lately is that the Semiconductor Index, which often leads the broad market, has been outperforming the S&P 500 and has broken its downtrend lines on both its price chart and its relative strength chart vs the S&P. This gives me more confidence that perhaps the recent strength has some legs behind it to extend up further.
The group (SOXX) was UP 17% in January. Similar to the NASDAQ there are more resistance obstacles ahead so we should expect pullbacks. However, the SOXX chart has taken on a more positive look that shouldn't be dismissed just yet.
Cryptocurrency
Following big gains earlier in the month, the rally in cryptos has begun to stall out. Across the largest cryptos, price action has been mixed with some assets like Bitcoin rising while others like Ethereum have fallen in the past week. However, they remain overbought and trading well over one standard deviation above their 50-Day moving averages.
Total crypto market daily volumes have been subdued since the fall of FTX, bottoming around $33 billion on a rolling 50-day basis mid-month; the lowest levels since 2019. With January just about over, we check in on seasonality. Since 2015, February has ranked as the second strongest month of the year for Bitcoin with an average gain of 13.87% and positive performance 87.5% of the time. Ethereum similarly has frequently moved higher during the month albeit the average gain is less impressive relative to other months.
Final Thoughts
I continue to trust my strategy while watching the internal indicators. That helps me stay in sync with the market no matter what happens. Despite my continued concerns about the bigger picture, the near-term action tells me to be more constructive on the stock market. The S&P is following the "bull path" that I outlined for members of my service over two weeks ago. As long as prices continued to behave in a manner consistent with that path, stocks can go higher.
If that changes and I become more cautious again, it's not going to be because of any particular news event but because the balance of evidence suggests caution. There is an inverse correlation between performance and how much news an investor takes in. Too much information will become overwhelming and lead to analysis paralysis. And since the news flow never ends, there will always be something new to have to factor in if you are making decisions based on headlines and talking heads. Instead, I employ a process and that process does not change based on what "might" happen in the future because of some uncertain news event. I've often said that it is not worthwhile to play the "what if game".
Investors should be making decisions based on several factors (prices, technical indicators, valuation, economic indicators, sentiment, gut feel, etc.) but playing a guessing game about what the market might do if this or that happens in the news is not one of them. For one thing, the market I always one step ahead of investors. It is constantly discounting and pricing in all possible contingencies.
Analyzing price action over time is the process of analyzing how the market's views are changing about whatever you happen to be charting. When I follow "price", I am in a way, following the news. If you are, instead, making decisions directly on what may happen in the future and how the market may respond to it, you are just gambling. You're playing a "guessing" game.
Remember, there is always something that could bring down the markets. If you are waiting for all the risks to go away, you will never own stocks again. And if you're trying to make decisions based on every potentially market-moving news event, you are going to have a hard time because that never ends. The market is not a guessing game, even though many people treat it as such.
THANKS to all of the readers that contribute to this forum to make these articles a better experience for everyone.
Best of Luck to Everyone!