It was just days ago that Fed chairman Jerome Powell declared: "We can now say for the first time that the disinflationary process has started," in comments that were inferred as endorsing both a return to the Fed's 2 per cent inflation target and the elusive soft landing.
US president Joe Biden said the jobs picture was "strikingly good". "Jobs are up, wages are up, inflation is down, and COVID no longer controls our lives," he told an audience of Democrats in Philadelphia. He will deliver his State of the Union address on Tuesday.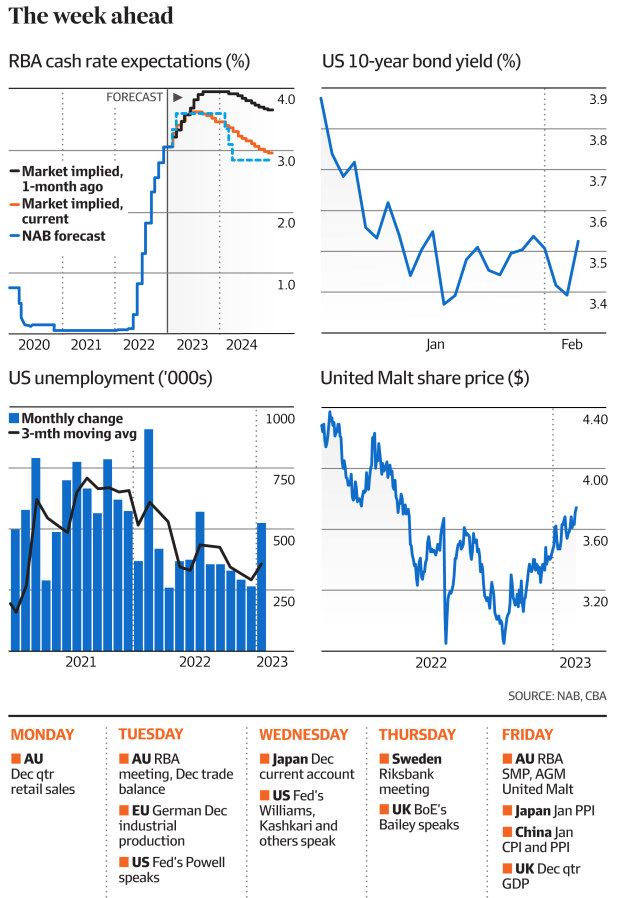 The US 10-year Treasury yield jumped 13 basis points to 3.52 per cent in a sell-off that spilled over into most sovereign markets on Friday. The Australian dollar tumbled to US69.23¢.
The Reserve Bank is forecast to deliver a further two interest rate increases in 2023, including Tuesday's meeting, with a follow-up rise fully priced in for April. The peak rate is implied at 3.6 per cent, before a pause stretching into 2024.
For the US, the outlook is suddenly more hawkish: markets are pricing in a peak of 5 per cent by May, before a pause and eventual cut in December. Last week, they were pricing in a peak of around 4.9 per cent, in June, and easing was fully priced by November.
"The message is to expect the [Fed] funds rate to keep increasing until the unemployment rate starts to rise," said Joseph Capurso, Commonwealth Bank head of international and sustainable economics. "That is, an increase in the unemployment rate would be the signal the FOMC could stop increasing the funds rate."
CBA assumes a further rate rise of 0.25 percentage points at the Fed's March meeting, which would take its benchmark to a new range of 4.75 per cent to 5 per cent. "But the risk is the FOMC increases the funds rate by 50 basis points, or even more, in coming months," Mr Capurso said.
Mr Powell will appear on Tuesday in a Washington forum.
Average hourly earnings grew only moderately, rising by US10¢, or 0.3 per cent, to $US33.03.
The bright spot of the US economy contrasts with substantial job cuts on Wall Street and out of Silicon Valley. Amazon in November began shedding more than 18,000 jobs, and Google's parent Alphabet has reduced its workforce by 12,000 jobs.
San Francisco Fed president Mary Daly said the Fed's December-issued dot plot forecasts showing a 5.1 per cent Fed funds rate at the end of 2023 was still valid.
"The number today on the jobs report was a wow number," Dr Daly told Fox Business. "Right now the most important thing to convey to listeners is that the direction for policy is for additional tightening and holding that restrictive stance for some time."
Goldman Sachs' macro markets analysis remarked that the Fed's communication last week removed all the references to what is fundamentally driving inflation, which is still growing annually at 6.5 per cent as of December.
FTSE 100 at record
"Essentially, chair Powell took a somewhat agnostic view and implied that the Fed would not push for tighter conditions if spot wage and inflation data continue to improve," the broker said.
Elsewhere, the FTSE 100 reset its 2018 record high helped by Shell's decision to buy back $US4 billion of shares by early May. The ASX 200's 2021 record stands at 7628.9 points on an end-of-day measure.
And US dollar strength hurt commodity prices, chiefly oil where April Brent crude fell 2.7 per cent to $US79.94 a barrel and March West Texas Intermediate 3.3 per cent to $US73.39 a barrel.
Meanwhile, the Saudi energy minister, Prince Abdulaziz bin Salman, said on Saturday that Western sanctions against Russia could compromise energy supplies in future.
"All of those so-called sanctions, embargoes, lack of investments, they will convolute into one thing and one thing only, a lack of energy supplies of all kinds when they are most needed," Reuters reported him saying.